Opening Keynote
Session Type(s): Plenary
Starts: Thursday, Jul. 11 5:00 PM (Eastern)
Ends: Thursday, Jul. 11 6:30 PM (Eastern)
Join us as we kick off Netroots Nation 2019 with our opening keynote! You'll hear from progressive voices including Philadelphia's Rev. Gregory Holston; Jess Morales Rocketto of the National Domestic Workers Alliance, Sara Nelson, International President of the Association of Flight Attendants; Congresswoman Eleanor Holmes Norton (District of Columbia); Color of Change's Rashad Robinson; Alicia Garza, co-creator of Black Lives Matter; and more speakers to be announced.
Panelists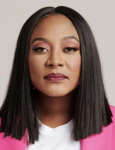 Alicia believes that Black communities deserve what all communities deserve — to be powerful in every aspect of their lives. An author, political strategist, organizer, and cheeseburger enthusiast, Alicia founded the Black Futures Lab to make Black communities powerful in politics. She is the co-creator of #BlackLivesMatter and the Black Lives Matter Global Network, serves as the Strategy & Partnerships Director for the National Domestic Workers Alliance, and is a co-founder of Supermajority, a new home for women's activism. Alicia has become a powerful voice in the media and frequently contributes thoughtful opinion pieces and expert commentary on politics, race and more to outlets such as MSNBC and The New York Times. She has received numerous accolades and recognitions, including being on the cover of TIME's 100 Most Influential People in the World issue and being named to Bloomberg's 50 and Politico's 50 lists. She is the author of the critically acclaimed book, The Purpose of Power: How We Come Together When We Fall Apart (One World Penguin Random House), and she warns you: hashtags don't start movements, people do.
Other sessions: Women Marched, Ran & Won: What's Next?, Sparkle or Shade? Let's Get Real About Inclusive Politics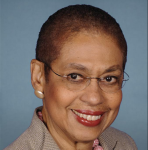 Congresswoman Eleanor Holmes Norton, now in her fifteenth term as the Congresswoman for the District of Columbia, is the Chair of the House Subcommittee on Highways and Transit. She serves on two committees: the Committee on Oversight and Reform and the Committee on Transportation and Infrastructure.
Before her congressional service, President Jimmy Carter appointed her to serve as the first woman to chair the U.S. Equal Employment Opportunity Commission. She came to Congress as a national figure who had been a civil rights and feminist leader, tenured professor of law, and board member at three Fortune 500 companies. Congresswoman Norton has been named one of the 100 most important American women in one survey and one of the most powerful women in Washington in another. The Congresswoman's work for full congressional voting representation and for full democracy for the people of the District of Columbia continues her lifelong struggle for universal human and civil rights.
Congresswoman Norton's accomplishments in breaking barriers for her disempowered district are matched by her success in bringing home unique economic benefits to her constituents. Among them are senatorial courtesy to recommend federal judges, the U.S. Attorney, and other significant federal law enforcement positions for the District; up to $10,000 per year for all D.C. high school graduates to attend any public U.S. college or university and up to $2,500 per year to many private colleges and universities; a unique $5,000 D.C. homebuyer tax credit, which has sharply increased home ownership in the District and was a major factor in stabilizing the city's population; and D.C. business tax incentives, including a significant wage credit for employing D.C. residents, which has maintained businesses and residents in the District.
Congresswoman Norton also has brought significant economic development to the District of Columbia throughout her service in Congress, creating and preserving jobs in D.C. The most significant are her work in bringing to D.C. the U.S. Department of Homeland Security headquarters compound, now under construction, and is the largest federal construction project in the country; her bill that is developing the 55 acre-Southeast Federal Center, the first private development on federal land; her work that resulted in the relocation of 6,000 jobs to the Washington Navy Yard; and her successful efforts to bring to the District the new headquarters for the U.S. Department of Transportation, and the Bureau of Alcohol, Tobacco, and Firearms, along with an additional Metro station at New York Avenue, which has resulted in the development of the NOMA neighborhood.
Congresswoman Norton helped end the city's most serious financial crisis in a century, in the 1990's,by achieving a historic package that for the first time restructured the financial relationship between Congress and the District, by transferring $5 billion in unfunded pension liabilities and billions more in state costs to the federal government.
The Congresswoman, who taught law full time before being elected, is a tenured professor of law at Georgetown University, teaching an upper-class seminar there every year. After receiving her bachelor's degree from Antioch College in Ohio, she simultaneously earned her law degree and a master's degree in American Studies from Yale University. Yale Law School has awarded her the Citation of Merit for outstanding alumni, and Yale Graduate School of Arts and Sciences has awarded her the Wilbur Cross Medal for outstanding alumni, the highest awards conferred by each on alumni. She is the recipient of more than 50 honorary degrees.
Other sessions: D.C. Statehood Caucus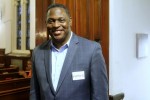 Rev. Holston is a recognized community activist, pastor, and leader known for advocating for racial and economic justice. As the Executive Director of POWER: Philadelphians Organized to Witness, Empower and Rebuild; he organizes 65 + congregations representing nearly 50,000 individuals across the city of Philadelphia, surrounding counties and the center of the state.
POWER believes building communities of opportunity to work for our faith is the foundation of everything we do and racial justice is at the center of that work. POWER, in coalition with other groups has won $600 million in additional education funding,and a fair funding formula. POWER also won 4000 airport workers millions of dollars in additional wages and union representation. This served as a model for organizing across the country.
Reverend Holston is the Senior pastor of Janes Memorial United Methodist Church as well as a businessman, entrepreneur, college professor, speaker and community activist. His most important role, however, is serving as a devoted and loving husband and father.
Other sessions: The 100% Clean Energy Revolution: Paths to Victory in the States, How Faith-Based Organizers Work in Coalition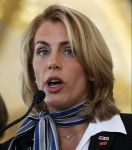 Sara Nelson is the International President of the Association of Flight Attendants-CWA, AFL-CIO. She has been recently recognized for her efforts to help end the longest federal shutdown in U.S. history by highlighting threats to aviation security and calling for labor to discuss taking action with a General Strike.
Sara became a union activist shortly after starting at United Airlines in 1996. In the wake of 9/11, she saw how those with money and power would use tragedy as a weapon against working people, and she committed her life fight back by building power through solidarity.
In addition to fighting for safe working conditions with fair pay and benefits, Sara has led major campaigns to ban knives on planes, increase Flight Attendant federal rest requirements, fight on-board sexual harassment and assault, create mandatory training for Flight Attendants to recognize and report human trafficking and much more.
Sara has served as a leading voice on issues facing women in the workplace and across the country, encouraging women everywhere to "Join Unions, Run Unions."
Other sessions: Is it Time for a General Strike?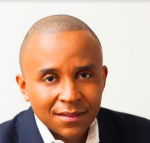 Rashad Robinson is the President of Color Of Change, the nation's largest online racial justice organization. Driven by over one million members, Color Of Change builds power for Black people and Black communities, moving decision makers in corporations and government to create a more human and less hostile world for Black people and all people. Robinson helped Color Of Change lead winning campaigns forcing over 100 corporations to stop funding ALEC, frame and win net neutrality as a major civil rights issue, and force Pat Buchanan and Bill O'Reilly off the air. Successful Color Of Change strategies have been profiled in The New York Times, The Washington Post, Fast Company and The Hollywood Reporter, and on CNN, NPR, PBS and MSNBC. In 2015, Fast Company named Color Of Change the 6th Most Innovative Company in the world, and in 2016, the Stanford Social Innovation Review profiled Color Of Change. Robinson is the proud recipient of awards from organizations as varied as ADCOLOR, the United Church of Christ and the Martin Luther King, Jr. Memorial Foundation. He serves on the boards of Demos and the Hazen Foundation. He is a monthly columnist for The Guardian.