The 100% Clean Energy Revolution: Paths to Victory in the States
Session Type(s): Panel
Starts: Thursday, Jul. 11 3:45 PM (Eastern)
Ends: Thursday, Jul. 11 4:45 PM (Eastern)
Since 2016, the federal government has been an inevitable impediment to a necessary and just transition to 100% renewable energy. But fear not, as equal parts success and courage are alive and well in our cities and states. With decades worth of combined experience and expertise, our panel will provide diverse, critical, historical perspectives on how constellations of once disparate environmental ideals became a contagion of triumphant state policies from Hawaii to California to Pennsylvania and beyond, offering attendees an opportunity to peel away the often arcane layers of energy policy and hear directly from movement leaders about how heartbreak and victory inspire them and the movement.
Moderator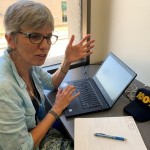 Susan Rakov is the founding director of Frontier Group, the research and policy center affiliated with The Public Interest Network. Since 1996, Frontier Group has explored the problems and opportunities of today's unparalleled material abundance – for our environment, our society and our lives, connecting academic research and original analysis to real-life political organizing and advocacy. Susan also chairs Environment America's Clean Energy Team. A veteran trainer and lecturer, she delivers a combination of theory-based expertise, campaign experience, storytelling, and heart. She holds a B.A. from Harvard University, and earned the rest of her credentials as a thinker/strategist/organizer/ hellraiser from 37 years on the job.
Panelists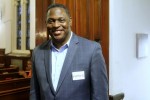 Rev. Holston is a recognized community activist, pastor, and leader known for advocating for racial and economic justice. As the Executive Director of POWER: Philadelphians Organized to Witness, Empower and Rebuild; he organizes 65 + congregations representing nearly 50,000 individuals across the city of Philadelphia, surrounding counties and the center of the state.
POWER believes building communities of opportunity to work for our faith is the foundation of everything we do and racial justice is at the center of that work. POWER, in coalition with other groups has won $600 million in additional education funding,and a fair funding formula. POWER also won 4000 airport workers millions of dollars in additional wages and union representation. This served as a model for organizing across the country.
Reverend Holston is the Senior pastor of Janes Memorial United Methodist Church as well as a businessman, entrepreneur, college professor, speaker and community activist. His most important role, however, is serving as a devoted and loving husband and father.
Other sessions: Opening Keynote, How Faith-Based Organizers Work in Coalition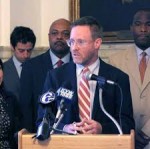 As executive director, David spearheads the issue advocacy, civic engagement campaigns, and long-term organizational building for one of Pennsylvania's largest citizen-based environmental groups, PennEnvironment. David's areas of expertise include fracking, global warming, environmental enforcement and litigation, and clean energy and land use policy in Pennsylvania. Under David's leadership, PennEnvironment has won the two largest citizen suit penalties in Pennsylvania history against illegal polluters under the federal Clean Water Act and the largest citizne suit penalty against an illegal polluter in Pennsylvania under the federal Clean Air Act. David lives in South Philadelphia with his family, where they're involved in their local elementary school, community garden and civic association.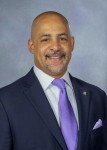 Chris Rabb is a father, educator, author, consultant, social justice activist and member of the Pennsylvania House of Representative representing upper northwest Philadelphia.
While a visiting researcher at Princeton University Rabb wrote the ground-breaking book, Invisible Capital: How Unseen Forces Shape Entrepreneurial Opportunity (2010).
In 2011, Rabb was recruited to teach at Temple University Fox School of Business where he was the Social Impact Fellow at the Innovation and Entrepreneurship Institute and taught social entrepreneurship and organizational innovation.
In his fourth year of teaching at Temple, Rep. Rabb helped to successfully unionize 1,500 fellow adjunct professors in a landslide victory for worker rights.
He is a long-time board member of the national racial justice think tank, Race Forward, and has been on the faculty of the Institute for Strategic Leadership at Drexel University's LeBow College of Business.
He has been a fellow at Demos, the Poynter Institute and the German Marshall Fund of the U.S. Rabb previously served on the boards of the Friends of the Wissahickon, Bread and Roses Community Fund, Mt. Auburn Cemetery, and The Baltimore Afro-American Newspaper which was founded by his great-great grandfather in 1892.
A former U.S. Senate legislative aide and writer, researcher and trainer at the White House Conference on Small Business in the Clinton administration, Rabb is a thought leader at the intersection of politics, media entrepreneurship and social identity.
In 2004, Rabb was one of fewer than approximately 40 credentialed bloggers at the 2004 Democratic Convention, blogging on-site for the now-defunct Afro-Netizen, which he founded in 1999.
Since then, Rabb has written for or appeared as a guest on several local and national media outlets including: The New York Times, The Nation, The Huffington Post, MSNBC, NPR, Philadelphia Daily News, Philadelphia Inquirer and the Associated Press.
A graduate of Yale College and the University of Pennsylvania, Rep. Rabb is a native of Chicago and an avid family historian and genealogist.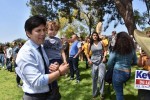 Kevin de León is President pro Tempore Emeritus of the California State Senate. The son of a single immigrant mother with a third grade education, he rose from San Diego's Logan Heights barrio to lead the California State Senate, the first Latino to do so in over a century. As leader of the State Senate, he delivered landmark gun-safety legislation, clean-energy mandates, environmental protections, and immigration reform. He authored the "Sanctuary State Bill" Senate Bill 54, created the CalSavers retirement security program, reallocated $2 billion for supportive housing and wraparound services for individuals experiencing homeless and mental illness under his ballot initiative "No Place Like Home", and wrote Senate Bill 100 which legally commits California to 100% clean energy by 2045. Before politics, Senator de León served the public as a community organizer, taught ESL and U.S.citizenship courses, and advocated for public schools. He graduated with honors from Pitzer College. The Senator is currently a professor at the UCLA Luskin School of Public Affairs and a Distinguished Fellow at the USC Schwarzenegger Institute as well as a candidate for the Los Angeles City Council. He has one daughter and a dog, whose name is Popeye.
Other sessions: Making the Green New Deal Real