Is it Time for a General Strike?
Session Type(s): Panel
Starts: Thursday, Jul. 11 2:30 PM (Eastern)
Ends: Thursday, Jul. 11 3:30 PM (Eastern)
"Start in the workplace and the politics will follow." When working people feel empowered at work, they are empowered in our democracy as well. As bold visions like Medicare for All and the Green New Deal galvanize our politics, could a general strike be the vision we need to rally working people around a shared vision of what our economy and democracy can be? High-profile strikes have made headlines in recent years, but for millions of Americans the idea of workplace action is a radical departure. In the age of the internet, with labor resurgent and working people looking for a fair shake, could we pull off something we've never done before in the United States?
Moderator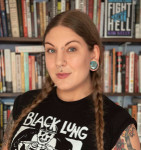 Kim Kelly is a freelance journalist and the author of 'FIGHT LIKE HELL: The Untold History of American Labor.' She is currently a labor columnist for Teen Vogue and Fast Company, and her writings on labor, politics, and culture have appeared in the Nation, Rolling Stone, Esquire, the Baffler, the New York Times, and many others. She is a proud member of and councilperson for the Writers Guild of America, East, and is based in Philadelphia.
Panelists
Jess Kutch co-founded and helps lead Coworker.org.
Jess has 15 years' experience working at the intersection of technology and social change. Prior to launching Coworker.org, Jess lead a team at Change.org in raising the company's profile around the world and inspiring hundreds of thousands of people to launch and lead their own efforts on the platform. Jess also spent five years at the Service Employees International Union (SEIU) where she pioneered digital strategies for the labor movement.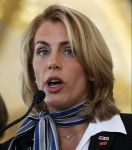 Sara Nelson is the International President of the Association of Flight Attendants-CWA, AFL-CIO. She has been recently recognized for her efforts to help end the longest federal shutdown in U.S. history by highlighting threats to aviation security and calling for labor to discuss taking action with a General Strike.
Sara became a union activist shortly after starting at United Airlines in 1996. In the wake of 9/11, she saw how those with money and power would use tragedy as a weapon against working people, and she committed her life fight back by building power through solidarity.
In addition to fighting for safe working conditions with fair pay and benefits, Sara has led major campaigns to ban knives on planes, increase Flight Attendant federal rest requirements, fight on-board sexual harassment and assault, create mandatory training for Flight Attendants to recognize and report human trafficking and much more.
Sara has served as a leading voice on issues facing women in the workplace and across the country, encouraging women everywhere to "Join Unions, Run Unions."
Other sessions: Opening Keynote
D. Taylor is the International President of one of the fastest growing unions in America, UNITE HERE, and a new organizing expert with a track record of results spanning over 35 years building the labor movement. President Taylor has led more strikes than nearly any modern American labor leader, including the successful seven-year strike of the Frontier Casino in Las Vegas, the successful 2016 strike of the Taj Mahal in Atlantic City, and the successful two-month, 8 city, 1770 worker hotel strikes of Marriott in fall 2018 – the largest successful hotel strike ever.
Before he was elected International President of UNITE HERE, President Taylor spend decades in Nevada with the union – playing a key role in growing UNITE HERE Culinary 226 from 18,000 members in 1987 to over 55,000 by 2013.
Since his election to UNITE HERE's International President in 2012, President Taylor has led UNITE HERE to its largest new organizing growth and focused on raising the standards for hospitality workers across North America – resulting in union wages for UNITE HERE hotel housekeepers being nearly triple the non-union standard in many cities. President Taylor has also overseen innovative immigration organizing and advocacy within the union and made healthcare and affordable prescription drugs a marquee union priority across the country.