Sparkle or Shade? Let's Get Real About Inclusive Politics
Session Type(s): Panel
Starts: Thursday, Jul. 11 3:45 PM
Ends: Thursday, Jul. 11 4:45 PM
Room: 118C
What does it look like to change our campaigns, organizations, coalitions, and institutions to center the people that are most impacted? What would it look like to remove barriers and inequities so that leaders within our communities can actually lead? Let's get real about inclusive politics and what's at stake. Learn from some of the most prominent leaders at the state and national level that can speak about this directly and share what we have to gain when we do this and do it right.
Moderator
Panelists
Chris joined the Lawyers' Committee in December 2011, serving as the Election Protection campaign manager to ensure the successful execution of the 2012 program. She continues to work with the Voting Rights Project to combat efforts to curb access to the ballot box, expand voting rights and create tools to educate and empower voters. As the Lawyers' Committee's lead organizer, she works with the organizing and tech team to develop strategies to address critical civil rights issues.
A seasoned organizer, she has served in numerous roles for different political campaigns across the country. She got her start in issue advocacy at a nonprofit helping DC parents navigate the education system. She also spent two years at Common Cause working to advance their democracy reform agenda.
Born in Venezuela and raised in Texas, she graduated from Austin College with a B.A. in English Literature and Anthropology.
Alicia Garza is the Special Projects Director for the National Domestic Workers Alliance. She is an organizer, writer and freedom dreamer based in Oakland, CA.
In 2013, Alicia co-founded #BlackLivesMatter, an international organizing network developed after the murder of Trayvon Martin, focused on combating anti-Black racism in all of its forms.
She has been the recipient of numerous awards for her organizing work, including the Root 100 2015 list of African American achievers and influencers between the ages of 25 and 45, and was featured in the Politico50 guide to the thinkers, doers and visionaries transforming American politics in 2015. Her writing has been featured in publications such as The Guardian, The Nation, The Feminist Wire, Truthout.org and more.
Other sessions: Women Marched, Ran & Won: What's Next?, Opening Keynote
Alex comes out of SB1070 and was trained, along with many others, to organize the community in the aftermath with an organization that was founded shortly after, Promise Arizona. That's led her to incredible opportunities, where she worked for Organizing for America in Arizona, the Adios Arpaio campaign she directed with NOI, and as a Deputy Organizing Director at United We Dream during the immigration reform push in 2013 and 2014. Since then, she's now a Co-executive Director at Living United for Change in Arizona (LUChA), where they organize and coordinate many different efforts across a range of issues locally, including immigration, worker's rights, living wages, and voter registration. Alex brings what I would consider a wide lens perspective, given both the local and national roles she's served, and as being one of most influential people in Arizona, investing in new leadership that is changing the political landscape at home.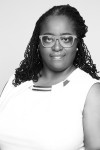 Nse Ufot's life and career have been dedicated to working on various civil, human, and workers rights issues; as the Executive Director of the New Georgia Project, she is proud to lead the organization to its goal of strengthening the state's democracy by registering and engaging roughly 1,000,000 eligible, but unregistered African Americans, Latinos, and Asian Americans.