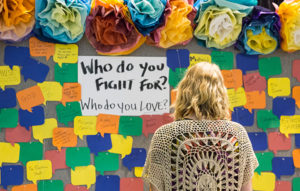 We are committed to making Netroots Nation not just diverse but an inclusive, positive, collaborative and safe experience for everyone who attends.
Netroots Nation is a place for:
Sharing ideas and experiences

Connecting with others in the movement

Learning from each other and sharing best practices

Uplifting and affirming each other
Netroots Nation is NOT a place for:
Personal attacks or put-downs

Hostility, threats or harassment
Use of threats or violence is never permitted and will result in the immediate revocation of credentials.
We encourage freedom of expression, including the right to peacefully protest, and recognize that such actions can be vital to shifting the political conversation. At the same time, we aim to ensure that all attendees can take full advantage of all opportunities available at this conference. If a protest is disruptive or sustained, we may relocate the action to another space so the program can continue.
How You Can Help

We aim to create an affirming and inclusive space where every attendee is valued and respected. Creating such a space is a group responsibility. Here are a few ways you can help:
During social events and discussions, encourage others to join in. Keep an empty chair or open space in your circle for newcomers to help them feel welcome.

Open up to others in your conversations. If you notice people dominating a discussion, ask for feedback from quieter attendees.

Cut one another some slack. Not everyone comes from the same shared knowledge base or social framework.

Aim to learn from differences of perspective. Ask questions and share insights with an open heart.

Avoid dismissing the ideas of others, even if they do not align with your personal beliefs.
Diversity and Inclusion

Below are just a few ways we intentionally strive to create an inclusive conference:
• Taking cues from the community on programming via our open panel/training submission process
• Featuring topics on our agenda that push attendees to think beyond their own communities and experiences
• Choosing panels that cross silos and encourage new partnerships within the movement
• Requiring that panels utilize a diverse group of speakers
• Offering trainings that benefit both beginners and advanced attendees
• Elevating new, diverse voices on the keynote stage
• Doing extensive outreach to encourage attendance from underrepresented communities
• Offering volunteer opportunities and scholarships for those who may need help financially
• Ensuring that attendees who have mobility issues or disabilities have a positive experience on-site
There's always progress to be made on this front, so we welcome your ideas. Got a question, concern or feedback? Contact the Netroots Nation staff.