Women Marched, Ran & Won: What's Next?
Session Type(s): Panel
Starts: Thursday, Jul. 11 10:15 AM (Eastern)
Ends: Thursday, Jul. 11 11:15 AM (Eastern)
Women are the majority of consumers, educators, organizers, donors, and voters. So why do two Koch brothers still have more power than 166 million American women? Why are we the only developed country with no nationally mandated paid family leave? Why are two-thirds of minimum wage workers women? Why are American women today 50% more likely to die in childbirth than their own mothers? This session will bring together women leaders from across movements to reimagine a world where issues that impact our lives are no longer dismissed as "identity politics" but placed front and center. We'll make a game plan that builds on our collective power and diversity, and works for women's equality.
Moderator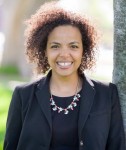 Cortney Tunis is the Executive Director of Pantsuit Nation, a nonprofit organization that uses storytelling to build the foundation for a more equitable and engaged democracy. Before joining the Pantsuit Nation team, Cortney worked in executive search for mission-driven organizations at Isaacson, Miller, student affairs and library systems at Wheelock College, and museum education at MASS MoCA in North Adams, MA. She has a BA from Williams College, an MA from the University of Chicago, and an MBA from Boston University.
Panelists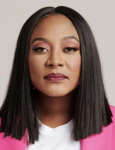 Alicia believes that Black communities deserve what all communities deserve — to be powerful in every aspect of their lives. An author, political strategist, organizer, and cheeseburger enthusiast, Alicia founded the Black Futures Lab to make Black communities powerful in politics. She is the co-creator of #BlackLivesMatter and the Black Lives Matter Global Network, serves as the Strategy & Partnerships Director for the National Domestic Workers Alliance, and is a co-founder of Supermajority, a new home for women's activism. Alicia has become a powerful voice in the media and frequently contributes thoughtful opinion pieces and expert commentary on politics, race and more to outlets such as MSNBC and The New York Times. She has received numerous accolades and recognitions, including being on the cover of TIME's 100 Most Influential People in the World issue and being named to Bloomberg's 50 and Politico's 50 lists. She is the author of the critically acclaimed book, The Purpose of Power: How We Come Together When We Fall Apart (One World Penguin Random House), and she warns you: hashtags don't start movements, people do.
Other sessions: Sparkle or Shade? Let's Get Real About Inclusive Politics, Opening Keynote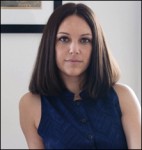 Shaunna Thomas is co-founder and Executive Director of UltraViolet, an organization fighting for gender equity and justice, from politics and policy to media and pop culture. Shaunna has had a fifteen year career in progressive organizing, building progressive infrastructure projects and winning critical policy fights at the national level.