Laughing Liberally Comedy Show
Session Type(s): Special Event
Starts: Thursday, Jul. 17 9:00 PM (Eastern)
Ends: Thursday, Jul. 17 10:30 PM (Eastern)
Join the performers of Laughing Liberally for a free special engagement at Netroots Nation. After the opening night keynote, enjoy an evening of laughter from the left with top political comics.
Tonight's show will include: Matthew Filipowicz, Julianna Forlano, Katie Halper, Joey Novick, Emily Epstein White, Elon James White and Lizz Winstead.  (Line-up subject to change)
Laughing Liberally, the national comedy project of Living Liberally, has been touring the country, producing videos and special campaigns with progressive partners and entertaining Netroots Nation since the begin. Line-up to be announced. laughingliberally.org.
Panelists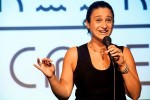 Emily Epstein White is a writer, editor, and comedian. She is a senior editor for This Week in Blackness where she writes, produces video and radio segments, and researches show content. As a comedian and storyteller, she performs all around New York City, the Northeast, and the West Coast, (not to mention a boat in the middle of the Yangtze River in China). She has been featured in many festivals and publications such as the New York Underground Comedy Festival, the 360 Comedy Festival, LAFF in Austin, TX, the She-Devil Comedy Festival, the Boston Globe, gawker.com, and she was on Good Morning America. Her writing has covered everything from food to politics in such publications as travelchannel.com, cityeats.com, and the Hartford Courant.
Other sessions: AMTWiB w/ L. Joy Williams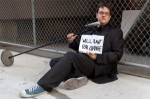 Matthew Filipowicz is a comedian, cartoonist, satirist, and the founder of HeadsOfState.tv. For nearly three years during the Bush administration, Matthew created satirical political animations daily for the website Headzup.tv. His videos garnered millions of views and were featured by the New York Times, CNN, NPR, PBS, HBO, BBC, the Wall Street Journal, as well as countless progressive outlets including the Nation, MotherJones, MoveOn.org, and more.
Matthew is the host of progressive political podcast, The Matthew Filipowicz Show, the national coordinator for Laughing Liberally. He has founded and directed Laughing Liberally and Drinking Liberally chapters in Chicago, Boston, and currently, Milwaukee.
Other sessions: Changing the Climate on Climate Change: A Showcase of Films for Environmental Action, Atlas Riffed: A Live-Riffing Of Atlas Shrugged Part Two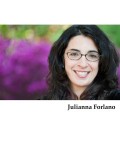 Julianna Forlano is the creator, host, and producer of the acclaimed progressive news parody ABSURDITY TODAY! which can be found on FreeSpeechTV, and at CrooksandLiars.com. (Archives at www.AbsurdityToday.com) She is a professor at Brooklyn College where she teaches Media Studies, Broadcast Journalism Ethics, and Comedy Script Writing. Her written work has been published in the Chicago Sun Times, in the book Letters to President Obama, and online. She is also a popular guest commentator on some of today's favorite progressive tv and radio programs as well as at mainstream outlets. Once named Chicago's Funniest Comedian by Reader's Digest, Julianna has had many notable performances including being the featured speaker and humorist at Barack Obama's Official Inaugural Ball. She currently lives in Brooklyn, NY.
Other sessions: Only the Jester Speaks the Truth, Food, Guns and Money: A Showcase of Advocacy Films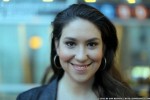 Born and raised on the mean streets of New York City's Upper West Side, Katie Halper is a comic, writer, blogger, satirist and filmmaker. A director of Living Liberally and co-founder/performer in Laughing Liberally, Katie has performed throughout the country, at all Netroots Nations, and The Nation Magazine Cruise, where she made Howard Dean laugh! Her writing and videos have appeared in The New York Times, Comedy Central, The Nation Magazine, Gawker, Nerve, Jezebel, the Huffington Post, Alternet and Katie has been featured in/on NY Magazine, LA Times, In, Gawker,Jezebel, MSNBC, the Alan Colmes Show, and the National Review, which called Katie "cute and some what brainy." She is a founding principal of Qualified Laughter – a production company dedicated to comedic social justice media – where she co-created the AFL-CIO Collective Bargaining video series and SEIU's Healthy Americans Against Reforming Medicine series, among others.
Other sessions: Top-Choice Movies for the Pro-Choice Movement: Film and the Fight for Reproductive Rights, Only the Jester Speaks the Truth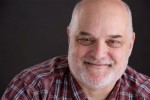 Attorney, elected official, & comedian. Joey served as an elected Councilman, as the only progressive Democrat on a rightwing Republican-dominated Council. He's appeared on MTV, Rascal's Comedy Hour, and Comedy Central. He's played Catch A Rising Star, Dangerfield's and comedy venues across the country. He's opened for Jerry Seinfeld, Ray Romano, Chris Rock, and Robert Klein. Joey performed for the National League of Cities and National Association of County Officials. He's observed the right-wing from the inside by attending Right Online, CPAC, and Faith & Freedom Conference. "I'm fat, bald, grey- bearded – I look like a typical Republican. They trust and open up to me." At Right Online, he's had drinks with Michele Bachmann and was photographed with Michelle Malkin and Joe The Plumber. He's the founder of www.whatexitnj.com, a parody news site. Like The Onion, but featuring NJ issues.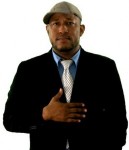 Elon James White is a Brooklyn-based comedian, writer and creator of the award-winning web series This Week in Blackness, a satirical look at race, politics and pop-culture in a so-called "post-racial" America and the award winning podcast Blacking it Up! White has been a featured commentator on MSNBC's The Melissa Harris Perry Show, VH1's "Black to the Future", "The Great Debate" and HLN's "The Joy Behar Show." His commentary on race and politics has been featured on CNN.com, Daily Kos, The Huffington Post, Giant Magazine, Salon, Alternet & The Root. Praised as "The perfect comedian for the Obama era, talking race while exploding racial stereotypes" by Dr. Melissa Harris-Perry on Politco.com & as "Precise, thought provoking and hilarious" by Daily Show creator Lizz Winstead, White continues to win accolades from critics, academia and audiences alike
Other sessions: TWiBPrime w/ Elon James White: Biden Reaction, TWiBPrime w/ Elon James White: Biden Introduction, TWiBPrime w/ Elon James White, TWiBPrime w/ Elon James White, Only the Jester Speaks the Truth, Historical Blackness: Movements as Models: What the History of Organizing Can Teach Today's Organizers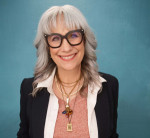 As co-creator and former head writer of The Daily Show and co-founder of Air America Radio, Lizz Winstead has helped changed the very landscape of how people get their news. Winstead also brought her political wit to The Daily Show as a correspondent and later to the radio waves co-hosting Unfiltered, Air America Radio's mid-morning show, with Chuck D and Rachel Maddow. Lizz continues doing stand-up, but spends most of her time at the helm of Abortion Access Front (formerly Lady Parts Justice League), a NYC- based reproductive rights organization that she founded in 2015, which uses humor and outrage to expose anti-choice hypocrisy and mobilizes people to take action in all 50 states. Known as one of the top political satirists in America, Winstead has been recognized by all the major media outlets including The New York Times, The Washington Post, O Magazine, Newsweek, Forbes, Now This, and as Entertainment Weekly's 100 Most Creative People. Winstead's first book, Lizz Free Or Die: Essays, was released in 2012 to incredible reviews, with Ms. Magazine saying, "Lizz Winstead is a sharp-witted truth-teller, and Lizz Free or Die will inspire anyone who has ever talked back to the television or wished they could come up with satire as insightful as The Daily Show." To keep up with Lizz, follow her on Twitter @lizzwinstead or like her on Facebook www.facebook.com/lizzwinstead
Other sessions: Daring to Internet While Female