Historical Blackness: Movements as Models: What the History of Organizing Can Teach Today's Organizers
Starts: Thursday, Jul. 17 1:00 PM (Eastern)
Ends: Thursday, Jul. 17 2:00 PM (Eastern)
From the pages of the New York Times to Politico controversies, people are talking about the role of public intellectuals in contemporary life. Missing from much of this discussion has been what role intellectuals should have in collaborating with activist communities, and what contribution the history of the black freedom movement should make today. The host of Historical Blackness Professor Blair LM Kelley, and her co-hosts Elon James White and Aaron Rand Freeman will discuss what lessons are at work in movements like Moral Mondays and the Dream Defenders, and what other lessons activists today learn from this history of past movements for racial justice before, during, and after the civil rights movement
Moderator
Blair L.M. Kelley is Associate Professor of History at North Carolina State University. She is the author of Right to Ride: Streetcar Boycotts and African American Citizenship in the Era of Plessy v. Ferguson, which won the 2010 Letitia Woods Brown Best Book Award from the Association of Black Women Historians.
Active inside the academy and out, Kelley has been a guest on MSNBC's Melissa Harris Perry Show, Democracy Now, and Countdown with Keith Olbermann and has written for TheGrio.com, Ebony.com, Salon.com, and Jet Magazine. She is the host of Historical Blackness on TWIB.FM, a podcast which explores today's politics through the lens of history.
Panelists
Aaron Rand Freeman is a production assistant and Co-Host of the award-winning podcast, Blacking It Up!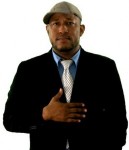 Elon James White is a Brooklyn-based comedian, writer and creator of the award-winning web series This Week in Blackness, a satirical look at race, politics and pop-culture in a so-called "post-racial" America and the award winning podcast Blacking it Up! White has been a featured commentator on MSNBC's The Melissa Harris Perry Show, VH1's "Black to the Future", "The Great Debate" and HLN's "The Joy Behar Show." His commentary on race and politics has been featured on CNN.com, Daily Kos, The Huffington Post, Giant Magazine, Salon, Alternet & The Root. Praised as "The perfect comedian for the Obama era, talking race while exploding racial stereotypes" by Dr. Melissa Harris-Perry on Politco.com & as "Precise, thought provoking and hilarious" by Daily Show creator Lizz Winstead, White continues to win accolades from critics, academia and audiences alike
Other sessions: TWiBPrime w/ Elon James White: Biden Reaction, TWiBPrime w/ Elon James White: Biden Introduction, TWiBPrime w/ Elon James White, TWiBPrime w/ Elon James White, Only the Jester Speaks the Truth, Laughing Liberally Comedy Show