Changing the Climate on Climate Change: A Showcase of Films for Environmental Action
Starts: Friday, Jul. 18 12:15 PM (Eastern)
Ends: Friday, Jul. 18 1:30 PM (Eastern)
This screening showcase focuses on films that address our environmental challenges, and the moral questions these issues raise.
This showcase will tie films to action directly.  After the discussion, presenters will invite the audience to join them at the nearby rally asserting that access to water is a basic human right — and calling on the city of Detroit to keep the water turned on for all its citizens.
Please join us for short presentations on three films followed by a moderated discussion.  At 12:50, there will be a pause for anyone who wishes to join the march for water rights.  We will end promptly at 1:30 to join the rally for water rights taking place at 1:45 (only a 7-minute walk away).
This session will include:
Pipelies Exposed
The Wisdom to Survive: Capitalism, Climate Change and Community
Harmony: A New Way of Looking at Our World
(line-up subject to change)
More on our films:
Pipelies Exposed. This is a short documentary fillm that debunks the main myths pushed by Keystone Pipeline proponents about jobs, national security, safety, climate, the economy, and more.  It features activists and experts.  www.pipeliesexposed.org
The Wisdom to Survive: Capitalism, Climate Change and Community. Climate change is here. Will we have the wisdom to survive? This is the first filmThe film features thought leaders and activists in the realms of science, economics and spirituality discussing how we can evolve and take action in the face of climate disruption. The film includes interviews with activists Bill McKibben, Joanna Macy, Roger Payne, Herschelle Milford, Quincy Saul, Ben Falk, and more. 56-min. long.
"A brilliant, achingly poignant film. Please SEE THIS FILM—bring it to your community, talk about it, share it with others. It is one of the most artfully-rendered films on the planet's crisis (and how we move through it) I have ever seen. Extraordinarily moving."—Shyla Nelson, Founder, One Earth One Voice Campaign
Harmony: A New Way of Looking at Our World. Inspired by the passion,conviction and guiding principles of HRH Charles The Prince of Wales, Harmony captures the vision of an authentic leader tackling critical global issues – a prince who is not afraid to actually get his hands and feet dirty. For over three decades,The Prince  has worked side by side with dynamic environmental activists,business leaders,artists, architects and government leaders.From India to Canada to the United States to the United Kingdom, from corporate boardrooms to organic farms to the rain forests of British Columbia, filmmakers Stuart Sender&Julie Bergman Sender introduce us to visionaries transforming the world, addressing global environmental crisis & making inroads toward a more sustainable,spiritual&harmonious relationship with the planet.Harmony is a global call to action offering concrete solutions to meet the challenges of  climate change,globally, locally & personally. www.theharmonymovie.com
Moderator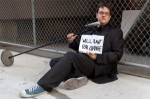 Matthew Filipowicz is a comedian, cartoonist, satirist, and the founder of HeadsOfState.tv. For nearly three years during the Bush administration, Matthew created satirical political animations daily for the website Headzup.tv. His videos garnered millions of views and were featured by the New York Times, CNN, NPR, PBS, HBO, BBC, the Wall Street Journal, as well as countless progressive outlets including the Nation, MotherJones, MoveOn.org, and more.
Matthew is the host of progressive political podcast, The Matthew Filipowicz Show, the national coordinator for Laughing Liberally. He has founded and directed Laughing Liberally and Drinking Liberally chapters in Chicago, Boston, and currently, Milwaukee.
Other sessions: Laughing Liberally Comedy Show, Atlas Riffed: A Live-Riffing Of Atlas Shrugged Part Two
Panelists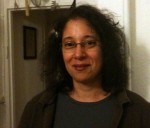 Angela is an award-winning filmmaker who has worked in community relations and publicity. Together with her sister Gwen Alston, she designs and implements grassroots outreach campaigns for films. Films MocaMedia has represented include A Sea Change (excerpt screened at Netroots Nation 2008), Saint Misbehavin': The Wavy Gravy Story, and Striking a Chord. Angela served as technical director of Democracy Now! for six years. She is a board member of the Video Association of Dallas, and a member of Women in Film Dallas and D-Word, an electronic community for documentary makers. She is currently in development with her first feature-length doc, Starting at Zero. Angela has an MFA in filmmaking from the University of Texas at Austin and a BZ in philosophy and biology from Swarthmore College.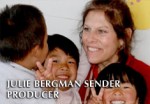 Julie Bergman Sender has a unique mix of experience—producing feature films and documentaries and creating groundbreaking media campaigns. Julie began her career at Warner Brothers producing movies with her mentor, director Sydney Pollack, then at Disney, Universal and partnering with Jodie Foster. Julie's is producer of HARMONY, a unique collaboration with HRH The Prince of Wales – Prince Charles (theharmonymovie.com). The film is being distributed for broadcast by Discovery International and will be released digitally in Fall 2014 in partnership with Sundance. Her feature credits include: "Washington Square" directed by Agneiszka Holland and starring Jennifer Jason Leigh; Ridley Scott's "G.I. Jane" starring Demi Moore; and "Six Days, Seven Nights" starring Harrison Ford. Julie executive produced The Garden nominated for an Academy award for best Documentary Feature. Julie is a partner in Balcony Films, a Los Angeles-based media production and consulting firm (balcony films.com).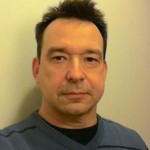 Dave Saldana is a Senior Fellow at Center for Media and Democracy, an Emmy Award-winning journalist and a civil rights lawyer. He has worked in mainstream and progressive media since 1988. His activism focuses on human rights, civil liberties, labor, media criticism and environment. He is a principal with Bullfight Strategies in Washington, DC, and proprietor of BFS Communications-Canada. He lives in Kitchener, Ontario, with his wife.