Not Just for Presidential Candidates: Bringing the Power of Small-dollar Donors to the Local Level (Sponsored Panel)
Session Type(s): Panel
Starts: Friday, Jul. 12 4:30 PM
Ends: Friday, Jul. 12 5:30 PM
Room: 119A
The 2018 elections made it clear that investing in small-dollar donors is more than a feel-good idea—it's a winning strategy. This is especially true in state and local races that don't cost as much as federal races and are not always in the spotlight. A few dollars can go a long way toward resources at the local level, and a passionate grassroots supporter base will spread the word about your campaign more enthusiastically than any reporter. Learn from fundraising practitioners and a local candidate how online grassroots fundraising at the state and local level has evolved thanks to technology and what you can do to start building a strong small-dollar donor program today, no matter the size of your campaign!
This panel is sponsored by ActBlue
Moderator
Panelists
Genny Castillo Genny is the COO of BLUE Institute, the premier training program to prepare more young people of color for the leadership of electoral campaign in the South and Southwest. Genny has close to 10 years of experience working in electoral campaigns and administrative roles. During the 2018 campaign cycle, Genny served as the Latinx Constituency Director through the Democratic Party of Georgia's Coordinated Campaign to one of the country's most high-profile campaigns in recent history, Stacey Abrams' gubernatorial bid in Georgia. Genny led one of the most successful Latinx constituency programs in the country, with weekly in-language voter contact events coupled with innovative voter engagement efforts. This work led to a 213.39% increase in voter turnout within the Latinx community which in turn, flipped one of Georgia's most diverse counties, Gwinnett County. Genny attributes her success in this capacity to her legislative work after serving as the Director of Caucus Services and developing one of the nation's most successful state legislative caucus internship programs from 2011-2017 for the Georgia House Democratic Caucus.
Genny received her B.S. in Sociology from Berry College and her A.M. in Social Service Administration from the University of Chicago. Genny is a graduate of the GALEO Institute for Leadership, LEAD Atlanta Class of 2016 and the GPEE Education Policy Fellowship Program. Genny is a mentor with the Latin American Association and a facilitator for the GALEO Institute for Leadership. In her spare time, Genny enjoys bachata and salsa dancing, and attending weddings.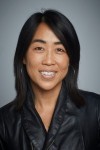 Seated in 2016, Councilmember Helen Gym is a longtime educator and community organizer and the first Asian American woman elected to Philadelphia City Council. In her first term, she led a schools agenda that championed the successful end of a state takeover of the Philadelphia school system, passed a soda tax to fund pre-K, and restored nurses, counselors, music programs and safe drinking water to every public school. She established the city's first legal defense fund for renters facing eviction and introduced and passed the nation's most expansive "Fair Workweek" law to give stable schedules and a path to full-time hours for 130,000 part-time workers. She is Vice Chair of Local Progress, a network of progressive municipal electeds, where she leads national efforts to support Sanctuary Cities, affordable housing, and public education.
Other sessions: What Philly Taught Us: How Philadelphia Activists Beat School Privatization to Restore Local Control, Combatting Fake Clinics: Local, State and National Efforts to Fight Back, Building the Bench: Racial Equity and Diversity at the State and Local Level