Trolling for Justice: How Cheeky, Provocative Campaigns Can Lead to Progressive Victories
Session Type(s): Panel
Starts: Saturday, Aug. 12 3:00 PM (Eastern)
Ends: Saturday, Aug. 12 4:15 PM (Eastern)
Who doesn't love a breakout petition? Or a viral infographic? What about an unexpectedly engaging call alert? Great, right? But also: TROLLING. The panel will discuss trolling as a tactic to educate new audiences, hit hard at the opposition, and generate opportunities that convert people to action. This panel will focus on how bold, cheeky, and deliberately provocative campaigns can be leveraged to not just egg on the opposition, but tell a story that leads to progressive wins. Panelists will describe how this tactic shapes their work and share best practices, and will invite participants to identify what real-time campaigns they're running that could benefit from a dose of #trololol'ing.
Moderator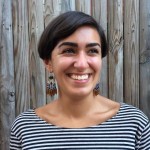 Emma Boorboor is a Campaign Director at UltraViolet, where she runs rapid response campaigns to end violence against women.
Prior to joining the team, Emma ran national and state level campaigns for voting rights and campaign finance reform with U.S. PIRG. She has been hooked on organizing since her first job as a field organizer with Green Corps, the Field School for Environmental Organizing.
Panelists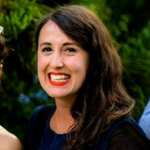 Anna is the Outreach + Volunteer Coordinator at Lady Parts Justice, where she loves working with the team to bust abortion stigma, use comedy to expose anti-choice douchebaggery, and create & lift up ways for people to take action for abortion access and reproductive rights across the country. Anna has an MSW from Hunter College in NYC, where she was propelled into working on grassroots social justice campaigns, most recently as the Campaign Coordinator for Teachers Unite. She has written for BUST Magazine, created advocacy videos for several nonprofit organizations, and she co-created the short film Obvious Child.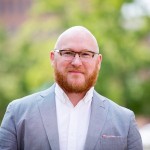 Sean Carlson is the founder of Apollo Collaborative. Sean has over a decade of experience in strategic communications and online organizing and works at the intersection of digital media, culture, and organizing.
Formerly Chief Strategy Officer at Revolution Messaging and Senior Digital Director at FitzGibbon Media, Sean is an experienced strategist and consultant. He has worked with clients such as the Clooney Foundation for Justice, Alliance for Justice, Care2, Amal Clooney, National Wildlife Federation, NBC Universal, Groundswell Energy, Communications Workers of America, Independent Driver's Guild, National Center for Transgender Equality, Restaurant Opportunity Centers United, Casa Ruby, the American Federation of Teachers, Good Jobs Nation, People for the American Way, and many more. He has campaigned against corporate abuses, designed national public education campaigns, marketed award-winning documentary films, and created content that received national media coverage.
Sean has helped launch a nationwide campaign to close youth prisons, was the chair of communications for the United for Marriage coalition during the landmark marriage equality cases in 2013, and has served as a teaching and training fellow at the New Organizing Institute.
Sean was formerly a professional Trombonist, studying at Duquesne and Carnegie Mellon Universities, and is proud to have multiple degrees in Bass Trombone performance that he's totally using (sorry Mom!). He lives in Hyattsville, MD with his husband Jamie McGonnigal, their son Malcolm and their dogs Lily and Rose.
Other sessions: Resistance Through the Courts: Our First Line of Defense Against Trump's Agenda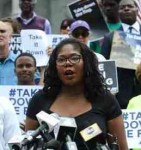 Brandi Collins-Dexter is the Senior Campaign Director at Color Of Change and oversees the media, democracy and economic justice departments. She has led a number of successful campaigns for accountability including getting Fox's The O'Reilly Factor taken off the air; getting R. Kelly dropped from RCA for his repeatedly abusing girls; winning Net neutrality protections; pressuring financial companies to pull funding from hate groups; and persuading Disney not to whitewash the features of their character Princess Tiana.
Brandi is a regular commentator in the media on racial justice. The Hill named her a 2017 "person to watch." She has written for The Root, The Hill and ESPN's The Undefeated, and has been featured on the BBC, and in the Guardian, Gizmodo and Pitchfork.
Other sessions: Net Neutrality and the Fight to Regain It, Digital Sanctuary: Combatting Bias and Racism in Tech Tools and Policies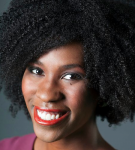 Bridget Todd (she/her) got her start teaching courses on writing and social change at Howard University.
Since then, she's trained human rights activists in Australia, done strategy for organizations like Planned Parenthood, the Women's March, and MSNBC, and ran a training program for political operatives the Washington Post called "the Hogwarts of the Democratic Party."
Formerly, Bridget explored feminist activism on the podcast Stuff Mom Never Told You and produced a global salon with AFROPUNK, a music and culture festival, to where she hosted folks like Angela Davis, Ava Duvernay, and #MeToo creator Tarana Burke.
She founded Unbossed Creative, a media company that makes podcasts and other digital content to push the needle on social change. Her critically acclaimed podcast, There are No Girls on the Internet, debuted on iHeartRadio on July 7th.
Other sessions: Holy Sh*t: Where Did All These People Come From?