Digital Sanctuary: Combatting Bias and Racism in Tech Tools and Policies
Session Type(s): Panel
Starts: Friday, Aug. 11 9:00 AM (Eastern)
Ends: Friday, Aug. 11 10:15 AM (Eastern)
The 2016 election cycle brought critical challenges with technology into sharp focus. While these fights have been brewing for years across the web, 2016 made it clear that inequality online leads to injustice offline. We need a different set of tech tools policies that disrupt structural exclusion and implicit bias. Systemic racism gets embedded in our technology and tech-driven tactics, allowing for technology to be used in ways that further marginalizes people of color, queer and trans folks, people with disabilities, and women. During this panel we'll talk about who profits, whose labor is exploited, and what we're doing to build tools and models that can lead to systemic change and digital sanctuaries.
Moderator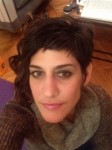 I'm a co-founder and the Executive Director of the Kairos Fellowship-a program building the next generation of campaigning leaders and technologists of color. I've been organizing for longer than I can remember. I came up in California working to end gender based violence against migrant farmworkers and their children before moving to NYC where I was a union organizer for 5 years. In 2010 I made the leap from grassroots organizing to online campaigning and worked at MoveOn. After leaving MoveOn, I went to Presente where I was Managing Director leading strategic campaigns. After years in digital campaigning and witnessing more and more black and brown leaders get pushed out of digital organizing because of structural racism, I co-founded the Kairos Fellowship. I am lucky to build with and support the incredible talent that makes up the Kairos network.
Other sessions: #Resist, Rebuild, Sustain: How Organizers and Technologists Must Collaborate in this Moment
Panelists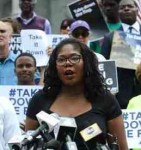 Brandi Collins-Dexter is the Senior Campaign Director at Color Of Change and oversees the media, democracy and economic justice departments. She has led a number of successful campaigns for accountability including getting Fox's The O'Reilly Factor taken off the air; getting R. Kelly dropped from RCA for his repeatedly abusing girls; winning Net neutrality protections; pressuring financial companies to pull funding from hate groups; and persuading Disney not to whitewash the features of their character Princess Tiana.
Brandi is a regular commentator in the media on racial justice. The Hill named her a 2017 "person to watch." She has written for The Root, The Hill and ESPN's The Undefeated, and has been featured on the BBC, and in the Guardian, Gizmodo and Pitchfork.
Other sessions: Trolling for Justice: How Cheeky, Provocative Campaigns Can Lead to Progressive Victories, Net Neutrality and the Fight to Regain It

Malkia A. Cyril is the founder and Executive Director of the Center for Media Justice (CMJ), and co-founder of the Media Action Grassroots Network. With a mission to build a racial justice movement for communication access, rights, and representation, CMJ has effectively mobilized racial justice strategies for media reform for over five years. Malkia's award-winning work has empowered local social justice leaders and organizations with the skills and strategies they need to navigate the complex media environment of the 21st century. Appearances include News for All the People: the Epic Story of Race and the American Media, the New York Times, Politico, Huffington Post, Media Matters, Democracy Now, Essence Magazine, Village Voice, the Advocate, the SF Chronicle and documentaries including Outfoxed, Broadcast Blues, and MissRepresentation. – See more at: http://centerformediajustice.org/about/staff/#sthash.13ltFKhQ.dpuf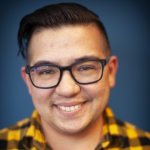 Cayden Mak is Executive Director at 18 Million Rising, organizing Asian Americans and Pacific Islanders (AAPIs) and their allies online. As part of 18MR's founding staff, they were an integral part of developing the organization's vision, voice, analysis, and playbook. In their previous role as Chief Technology Officer, they were the driving force and product manager behind community-centered design for civic tech project VoterVOX, a community-designed matching tool to help find personalized volunteer translation assistance for limited English proficient voters.
Their organizing history also includes cofounding grassroots media startups (youngist.org), cofounding a statewide student organizing network (New York Students Rising), serving as a union officer and staff organizer (CWA 1104, Education Division), and contributing to organizing the Allied Media Conference in Detroit, MI.
In addition to their day job, they serve as the chair of the advisory board for the Kairos Fellowship, and enjoy powerlifting and Magic: the Gathering.
Other sessions: AAPIs Sharing Effective Strategies for Resisting and Mobilizing