Ending the Endless War and Advancing a Progressive Global Vision
Session Type(s): Panel
Starts: Saturday, Jul. 16 4:00 PM (Eastern)
Ends: Saturday, Jul. 16 5:15 PM (Eastern)
For too long, the progressive movement writ large has largely ignored foreign policy while neocons and war hawks have set our country's agenda. We must as a movement join together to push back on the ever-escalating militarism in the Middle East and around the world. Join us as we discuss practical solutions and organizing strategies to counter U.S. militarism and transform U.S. engagement with the world. We'll talk about how to push our Congressional allies to end drone warfare and how to mobilize support for a diplomatic solution to the Syrian civil war, among other goals.
Moderator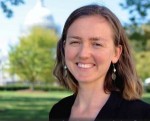 Kate Gould is the Legislative Representative for Middle East Policy at the Friends Committee on National Legislation, a Quaker lobby in the public interest in Washington, DC.
Gould was profiled in 2015 as the "Quaker Lobbyist Behind the Iran Deal Fight," by Congressional Quarterly, an outlet with readership that includes 95% of members of Congress. Gould's analysis on Middle East policy has been published in New York Times, the Washington Post, USA Today, The Guardian, CNN, Reuters and other national outlets. Gould has appeared as an on-air analyst for various TV and radio programs, including the O'Reilly Factor on Fox News, The Thom Hartmann Show and The Real News Network.
Gould is a Political Partner at the Truman National Security Project and also serves on the board of Churches for Middle East Peace. You can follow her on twitter @k8gould.
Panelists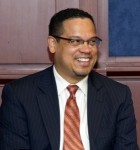 Currently serving as Minnesota's 30th Attorney General, Keith Ellison is the first African American and first Muslim American to be elected to statewide office in Minnesota. Before becoming AG, Ellison represented Minnesota's 5th District in Congress where he focused on consumer, worker, environmental, civil- and human-rights protections for Minnesotans. As Minnesota's AG, Ellison has championed affordable health care, a fair economy, and equal opportunity for all. Ellison has opposed a new rule revoking legal status for immigrants accessing public assistance, created a unit within the office of the Attorney General that focuses on investigating and prosecuting abuse of workers and wage theft, as well as filing lawsuits against opioid manufacturers. Following the killing of George Floyd, Governor Walz appointed AG Ellison to prosecute the case.
Other sessions: TPP: Trade "Trump-ing" the Election [Voter Pick], The Next Supreme Court: 2016 and the Fight for the Soul of Our Constitution, Making Progressive Issues Presidential: How Debt-free College Became Central to this Election, Grassroots Power: How to Beat the Koch Brothers at Organizing
Jan Schakowsky was elected to represent Illinois' 9th Congressional District in 1998, after serving for eight years in the Illinois State Assembly. Schakowsky serves in the House Democratic Leadership as Chief Deputy Whip and is a member of the House Democratic Steering and Policy Committee. She is a member of the Energy and Commerce Committee, where she serves as the Ranking Member of the Subcommittee on Commerce, Manufacturing and Trade and a member of the Subcommittee on Health and the Subcommittee on Oversight and Investigations.
A longtime grassroots organizer and consumer advocate, Schakowsky began her leadership career in 1969 when she led the fight that put freshness dates on products sold in the supermarket. In Congress, Schakowsky has been a leading advocate on senior issues, health care, women's issues and creating jobs to strengthen and expand the middle class. Schakowsky has also been a leader in re-affirming Congress' war-making authority, supporting refugees, and advocating for diplomatic solutions. She worked with Congressmen Lloyd Doggett (TX) and David Price (NC) to lead a letter from 151 members of Congress to the President to demonstrate support for the framework of the P5+1 nuclear agreement with Iran, an effort which played a crucial role in laying the foundation for securing enough votes to protect the Iran deal from congressional sabotage.
She lives in Evanston, Illinois with her husband Robert Creamer and their two rescue dogs Eleanor and Franklin.
Other sessions: Not Your Wedge Issue: The State of Abortion Access and Reproductive Justice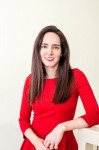 Yasmine Taeb serves as the Legislative Representative for Human Rights and Civil Liberties at the Friends Committee on National Legislation. Yasmine directs FCNL's work on a number of human rights and civil liberties issues, including lobbying for increased resettlement of refugees, more transparency and oversight of the U.S. lethal drones program, calling for the closure of Guantanamo, and for the repeal of the 2001 AUMF, among other issues.
Previously, Yasmine served as Project Manager at the Center for American Progress (CAP) and co-authored CAP's Islamophobia report, "Fear, Inc. 2.0: The Islamophobia Network's Efforts to Manufacture Hate in America."
Yasmine has substantial legislative and advocacy experience and has served as the Government Relations Manager for the Arab American Institute as well as a Legislative Fellow for Rep. Karen Bass (D-CA).
Yasmine's writings and commentaries have appeared in Newsweek, The Washington Post, New York Times, The Hill, Miami Herald, The Huffington Post, ThinkProgress, among other publications.
Yasmine is the recipient of the 2017 We are EMILY Award from EMILY's List, a 2017 University of Florida Outstanding Young Alumni, 2016 Young Women of Achievement Awardee for Service/Nonprofit Advocacy, and the recipient of the 2016 Diversity Award for Leadership in the Legal Profession from Penn State Law.