Ending Inequality for All: How Progressives Can Win, from Presidential Politics to the Fast Food Fight
Session Type(s): Panel
Starts: Friday, Jul. 17 7:30 PM (Eastern)
Ends: Friday, Jul. 17 8:45 PM (Eastern)
Thanks to the advocacy of progressives, the country has turned a critical eye toward the historic gap between the 1 percent and the rest of America. We've won significant income inequality victories, from ballot measures to state legislatures' but we know we still have a long way to go before we overcome what President Obama has called the "defining challenge of our time." This panel will examine the progress we've made and the challenges and opportunities ahead in addressing income inequality.
Moderator
Panelists
Elba Dias, has worked at Wendy's for 17 years and only makes $9.35 per hour. She hasn't had a raise for 6-7 years, and she is told that she won't ever be able to, that no one does. She is a cashier, but she also works in the kitchen. Elba has four adult children, but only two live with her and her husband in Phoenix. She works a second job at the swap meet, because her monthly income is not enough to make ends meet.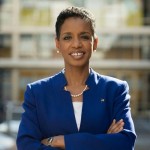 Donna Edwards is the first ever elected African American congresswoman from the state of Maryland, representing Maryland's 4th Congressional District, including Prince George's and Anne Arundel Counties.
Donna's been a progressive champion for women's reproductive rights, investments in historically black colleges and science and technology education, and standing up to anyone willing to consider cuts to Social Security and Medicare.
Now, Donna is ready for her next fight — to become Maryland's next Senator and the second African-American woman ever elected to serve in the United States Senate.
Other sessions: TWiB! Prime Live From NetRoots Nation with Rep. Donna Edwards, The Untapped Power of Unmarried America, Candidate Happy Hour Presented by ActBlue and Democracy for America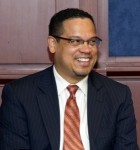 Currently serving as Minnesota's 30th Attorney General, Keith Ellison is the first African American and first Muslim American to be elected to statewide office in Minnesota. Before becoming AG, Ellison represented Minnesota's 5th District in Congress where he focused on consumer, worker, environmental, civil- and human-rights protections for Minnesotans. As Minnesota's AG, Ellison has championed affordable health care, a fair economy, and equal opportunity for all. Ellison has opposed a new rule revoking legal status for immigrants accessing public assistance, created a unit within the office of the Attorney General that focuses on investigating and prosecuting abuse of workers and wage theft, as well as filing lawsuits against opioid manufacturers. Following the killing of George Floyd, Governor Walz appointed AG Ellison to prosecute the case.
Other sessions: TWiB! Prime Live From Netroots Nation with Rep. Keith Ellison, The Great Equalizer: Advancing the Cause of Civil Rights through Organizing, Building Progressive Political Power
Analilia Mejia is a progressive union and community activist with Jersey roots and nationwide experience fighting for policies that lift up working families. Under her leadership, New Jersey Working Families spearheaded an unprecedented effort to enact earned sick time laws in nine New Jersey municipalities, which ThinkProgress has called "the biggest wave of paid sick day victories ever" and for which President Obama honored her as a "White House Champion of Change." She also leads the fight for revenue solutions that would allow New Jersey to make smart investments that lift up working families, and has recently launched the New Jersey Democracy Project, a campaign to expand voter protections and participation.
Amanda Monroe is a single mother, a Fast Food Worker and a fighter. She's currently employed at McDonald's in Albany, NY and is making the minimum wage in the state – $8.75. Amanda has joined the Fight For $15 movement and gone on strike for $15 and Union rights because she believes that every person that is willing to work deserves dignity and respect and the ability to support their own families without being forced to rely on public assistance. Currently, after basic necessities, Amanda's McDonald's wage leaves her family $400 short every month. Meanwhile, her employer is bringing in over $5 billion every year in profits. Because of Amanda's work and that of 1,000's of workers across the country and globally, cities, states and businesses are starting to move toward a living wage. Her recent testimony supporting $15 min wage recommendation for 180,000 fast food workers in NY to the NY wage board has garner over 500,000 views on Upworthy and inspired people across the nation.