The Great Equalizer: Advancing the Cause of Civil Rights through Organizing
Session Type(s): Panel
Starts: Friday, Jul. 17 4:45 PM (Eastern)
Ends: Friday, Jul. 17 6:00 PM (Eastern)
Collective bargaining is one of the best tools we have to advance civil rights and equality for all. Labor has long been a staunch ally in social movements for justice and equality, from the civil rights movement to integration in meatpacking plants, from equal pay for women to Moral Mondays. Many of the issues progressives are pushing for now—for LGBT rights and against discrimination of all kinds—have been guaranteed protections for workers under union contracts for decades. And workers continue to be front and center in important current fights like. From Walmart to the fast food fights, workers know that equality issues are often economic issues and that our fight is for the same respect and dignity. This panel will discuss important ways that labor and progressives can work together to fight for a more equal America.
Moderator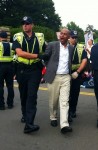 Tefere Gebre is the Executive Vice President of the AFL-CIO, the national federation of labor unions representing 12.5 million workers. Tefere was the first former political refugee and the first local labor council leader elected to this national office. As a child refugee from Ethiopia Tefere found his way to Sudan and then to Los Angeles, California where he studied and earned a college scholarship. His first union job was a UPS night shift loader with Teamsters Local 396. Later Tefere led political and government relations for the Laborers Local 270 and the California Fed. He then helped redefine and dramatically grow the labor movement as Executive Director of the Orange County Labor Federation by doubling its political capacity and growing key community partnerships. Now EVP Gebre leads efforts to improve local labor political and organizing capacity, as well as to advance voting rights, racial justice and immigrant workers' rights.
Other sessions: The Evolution of Immigrant Rights: From Political Empowerment to Progressive Change, Keynote: A 2015 Progress Report
Panelists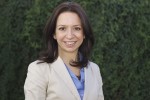 Originally from the UK, I came to ASU to complete my Master's degree in 2005 and have been here ever since. I am a founding partner of Javelina, a full-service campaign and public affairs firm, providing a full suite of professional consulting services—from cutting edge direct mail, to smart strategic planning and implementation. I also serve as Co-Chair of the Board of Directors for Equality Arizona, a statewide LGBT advocacy organization, and sit on the Board of Directors for Ben's Bells, a non-profit focused on educating about the practice of intentional kindness. We just opened our Phoenix studio.
Other sessions: Do Details Matter? Why and How We Sanitize Our Stories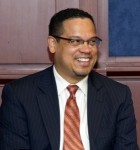 Currently serving as Minnesota's 30th Attorney General, Keith Ellison is the first African American and first Muslim American to be elected to statewide office in Minnesota. Before becoming AG, Ellison represented Minnesota's 5th District in Congress where he focused on consumer, worker, environmental, civil- and human-rights protections for Minnesotans. As Minnesota's AG, Ellison has championed affordable health care, a fair economy, and equal opportunity for all. Ellison has opposed a new rule revoking legal status for immigrants accessing public assistance, created a unit within the office of the Attorney General that focuses on investigating and prosecuting abuse of workers and wage theft, as well as filing lawsuits against opioid manufacturers. Following the killing of George Floyd, Governor Walz appointed AG Ellison to prosecute the case.
Other sessions: TWiB! Prime Live From Netroots Nation with Rep. Keith Ellison, Ending Inequality for All: How Progressives Can Win, from Presidential Politics to the Fast Food Fight, Building Progressive Political Power