How We Restored Voting Rights for 55,000 Minnesotans
Session Type(s): Panel, Streamed Session
Starts: Thursday, Jul. 13 10:30 AM (Central)
Ends: Thursday, Jul. 13 11:30 AM (Central)
Room: Salon A-1
In Minnesota, the 20-year fight to restore voting rights to those on felony probation was finally won in early 2023 after winning a pro-democracy majority. Join us to hear how we won the largest voting rights expansion since the Voting Rights Act in Minnesota—and how other states can do the same.
Moderator
Panelists
Minister JaNaé Bates is the communications director for Faith in Minnesota and ISAIAH – multi-racial, multi-faith, state-wide vehicles for people and communities of faith, Black owned barbershops and childcare centers. These organizations are dedicated to building a multiracial democracy by moving collectively and powerfully for racial and economic equity in the state of Minnesota. JaNaé specializes in integrating grassroots community organizing and narrative strategy. She has been instrumental in the implementation of the "Race Class Gender Narrative" framework in both Minnesota and across the U.S. JaNaé is a womanist theologian and Fulbright scholar. She has nearly two decades of academic and professional experience in ministry, social justice, and communications.
Other sessions: Revealing the Digitally Invisibilized: Discussing Bias and Offering Solutions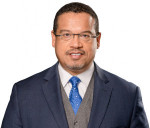 Sworn in as Minnesota's 30th Attorney General in 2019, Keith Ellison is the first African American and the first Muslim American to be elected to statewide office in Minnesota. Before becoming AG, Ellison represented Minnesota's 5th District in Congress where he focused on consumer, worker, environmental, civil- and human-rights protections for Minnesotans. As Minnesota's AG, Ellison has championed affordable health care, a fair economy, and equal opportunity for all. Ellison has opposed a new rule revoking legal status for immigrants accessing public assistance, created a unit within the office that focuses on investigating and prosecuting abuse of workers and wage theft, as well as filing lawsuits against opioid manufacturers. This year, Ellison and his team successfully prosecuted former police officer Derek Chauvin for the murder of George Floyd.
Other sessions: First They Came for CRT ... Why Saving Democracy Means Defending Racial Justice, Check the Roots: The Root Causes of Gun Violence & How AGs are Responding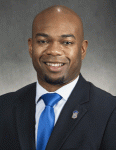 Cedrick Frazier is a second-term Minnesota State Representative, serving District 43A, which includes the cities of New Hope and Crystal in Hennepin County. At the Minnesota Legislature, he is Co-Chair of the People of Color and Indigenous (POCI) Caucus in the House and serves on the Judiciary Finance & Civil Law (Vice Chair), Education Policy, Public Safety Finance & Policy, and Workforce Development Finance & Policy committees. Representative Frazier has worked tirelessly to fight against racial inequities in the criminal justice system, education, and housing. He is also a strong advocate for gun violence prevention and reforming systems that perpetuate intergenerational trauma and oppression for BIPOC communities. Frazier is a graduate of the University of Minnesota-Morris, Minnesota State University, Mankato, and William Mitchell College of Law. He lives in New Hope, MN with his wife Stella and they have three daughters.
Other sessions: How Minnesota Prepared for a Democratic Trifecta and Won Our Progressive Agenda