Session Type(s): Panel
Starts: Thursday, Jul. 13 10:30 AM (Central)
Ends: Thursday, Jul. 13 11:30 AM (Central)
Room: Salon A-1
In Minnesota, the 20-year fight to restore voting rights to those on felony probation was finally won in early 2023 after winning a pro-democracy majority. Join us to hear how we won the largest voting rights expansion since the Voting Rights Act in Minnesota—and how other states can do the same.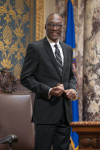 Senator Bobby Joe Champion attended North High School and graduated with degrees in Political Science and Law from Macalester College and William Mitchell College of Law. Champion is now a practicing attorney with skill sets in negotiation, extensive legal and business analysis, and advocacy. Champion is a lifelong resident of North Minneapolis and currently lives in the Lyn Park neighborhood with his wife Angela, a pharmacist, and they have two sons that are off at college.
Growing up, Champion loved to watch the courtroom drama Perry Mason and, after graduating high school, decided that he wanted to become a lawyer. His passion for music would later fuel his interest in pursuing entertainment law.
Champion's passion for music and the arts grew from directing both his church choir and personal choir "Excelsior". To his pleasant surprise, Excelsior developed into a Stellar Award-winning and Grammy-nominated choir and went on to receive nationwide exposure producing over seven CDs.
Champion has also worked for Flyte Tyme Productions and Flyte Tyme's Grammy Award-winning producers Terry Lewis and James "Jimmy Jam" Harris.
In his legal work, Champion has also served with Attorney General Keith Ellison, the Legal Rights Center, and as an Assistant Attorney General under both Skip Humphrey and Mike Hatch. Champion was elected to the Minnesota House of Representatives in 2008 and has been a diligent public servant in job creation, affordable housing, ending homelessness, transportation, conservation, combating climate change, education, healthcare, and equity and criminal justice reform. Champion has served in the Minnesota Senate since 2012.
At the Senate, Champion is the Senate President and chair of the Senate Jobs and Economic Development Committee. He also serves on the Rules and Administration Committee and Finance Committee.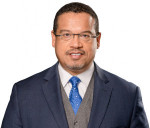 Sworn in as Minnesota's 30th Attorney General in 2019, Keith Ellison is the first African American and the first Muslim American to be elected to statewide office in Minnesota. Before becoming AG, Ellison represented Minnesota's 5th District in Congress where he focused on consumer, worker, environmental, civil- and human-rights protections for Minnesotans. As Minnesota's AG, Ellison has championed affordable health care, a fair economy, and equal opportunity for all. Ellison has opposed a new rule revoking legal status for immigrants accessing public assistance, created a unit within the office that focuses on investigating and prosecuting abuse of workers and wage theft, as well as filing lawsuits against opioid manufacturers. This year, Ellison and his team successfully prosecuted former police officer Derek Chauvin for the murder of George Floyd.