Post-Roe Doesn't Mean Post-Abortion … If You Step Up
Session Type(s): Featured Panel
Starts: Saturday, Aug. 20 11:15 AM (Eastern)
Ends: Saturday, Aug. 20 12:30 PM (Eastern)
Where do we go from here in a post-Roe world? What do you need to think about? What do you NOT need to think about? We have the people to tell you. Moderated by Lizz Winstead (co-creator of The Daily Show), this panel will give you all the info you need to know about the support abortion patients need right now, what it's like to provide abortions in this chaos, how to expose the fake clinics scamming pregnant people, and how to spread the word about self-managed abortion.
Moderator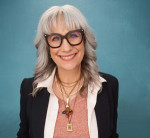 As Co-creator and former head writer of The Daily Show, co-founder of Air America Radio, comedian Lizz Winstead helped change the very landscape of how people get their news. Winstead is not only a writer and creator, she was also a correspondent on The Daily Show and co-hosted Unfiltered, Air America Radio's mid-morning show, with Chuck D and Rachel Maddow.
Known as one of the top political satirists in America, Winstead is recognized by all the major media outlets including The New York Times, The Washington Post, O Magazine, and as Entertainment Weekly's 100 Most Creative People. Winstead's first book, Lizz Free Or Die: Essays, released in 2012, garnered incredible reviews. Ms. Magazine says, "Lizz Winstead is a sharp-witted truth-teller, and Lizz Free or Die will inspire anyone who has ever talked back to the television or wished they could come up with satire as insightful as The Daily Show."
Lizz continues to do stand-up, and make appearances on cable news, yet spends most of her time helming Abortion Access Front AAF) an inclusive NYC- based reproductive rights organization she founded in 2015. AAF uses humor and outrage to expose anti-choice hypocrisy and mobilizes people to take action in all 50 states. Hosting the AAF podcast, Feminist Buzzkills is the perfect next step for Winstead combining her activism with her comedy. It is a must listen, new episodes drip Fridays wherever you get your podcasts.
To keep up with Lizz, follow her on Twitter, Insta and Tiktok @lizzwinstead or like her on Facebook www.facebook.com/lizzwinstead.
Other sessions: Feminist Buzzkills Live! from Netroots Nation, Feminist Buzzkills Live! from Netroots Nation, Feminist Buzzkills Live! from Netroots Nation
Panelists
Caitlyn Caruso (they/she), also known as Cece, has over 8 years of experience in the sexual health field, predominantly in community organizing, engagement, and communications. They approach all of their work from a reproductive justice framework and are humbled to have worked across the field in several capacities over the years. They attended University of Nevada Las Vegas, and received a Bachelor's degree in Critical Race, Gender, & Ethnic Studies with a concentration in communications before moving across the country to Washington DC. It was there that they joined Advocates for Youth as their state and local campaigns manager, working specifically with young people and students across the nation.
She now works at Plan C Pills, serving as their digital organizing manager. When Cece's not working, she's spending time with her two cats and partner, doing mutual aid work, and doodling/painting the hours away.
Other sessions: There Is a Plan C: Increasing Abortion Access Online and By Mail
Lara Chelian, JD is the vice-president of external operations at Northland Family Planning Centers in the Metro Detroit area. She has over 15 years of experience working in abortion care through her experience with Northland Family Planning Centers at all levels of abortion care. Advocacy for independent abortion providers and representing the care they provide is a large part of her current role. For the past 2 years, Lara has been an active part of the Reproductive Freedom for All coalition to bring a constitutional amendment ballot initiative to protect the fundamental right to abortion in Michigan. It is expected to be on the ballot in November of 2022. Presently, her work's focus is also as founder and board President of a non-profit, Reclaim, formed in 2015. Reclaim's focus is on abortion rights advocacy, community education and engagement. The mission of Reclaim is to fuel individuals and communities to Reclaim their dignity around, confidence in, and support of abortion and reproductive rights. Reclaim engages in advocacy and public education to provide accurate and thoughtful information on reproductive health in culture and society. Lara received her undergraduate degree from the University of Michigan in 2002 and her law degree from Wayne State University in 2011.
Other sessions: We Keep Us Safe: Oppositional Data Collection As Community Care
Kristin has coordinated the volunteer clinic escort program at her local indie abortion clinic for the last seven years, serves on the boards of both Pro-Choice Ohio and The Agnes Reynolds Jackson Fund, and works as the Community Engagement Coordinator for Abortion Access Front.
Other sessions: We Keep Us Safe: Oppositional Data Collection As Community Care