Session Type(s): Panel
Starts: Friday, Aug. 19 11:00 AM (Eastern)
Ends: Friday, Aug. 19 12:00 PM (Eastern)
States are limiting access to abortion, but anti-abortion centers (also known as crisis pregnancy centers) are proliferating. Under the guise of support for pregnant people, they serve as little more than propaganda centers for the anti-abortion movement, providing minuscule support and diverting millions away from programs that provide actual health care and support. Public funding for these kinds of programs originated in Pennsylvania. Hear from local and national advocates who are dismantling the lies and how to apply the same tactics in your home state.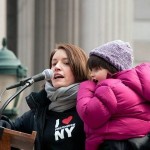 Mary Alice Carter (she/her) has nearly three decades of experience in reproductive rights and health movements, designing and managing effective earned and paid media campaigns and serving as a national spokesperson, appearing on TV from MSNBC to Fox News and in print from CNN.com to The Washington Post. She is tired but not stopping now.
She currently serves as Senior Advisor to Equity Forward, a watchdog project that runs research-driven campaigns to hold accountable anti-reproductive health forces. Mary Alice previously served as the vice president for communications at Planned Parenthood Federation of America. She has also worked for Physicians for Reproductive Health, the National Institute for Reproductive Health and NARAL Pro-Choice New York.
Originally from Pittsburgh, with a stint along the way in Colorado, Mary Alice and her two kids, 10 and 13, now live in Maplewood, New Jersey along with a rescue cat and dog who don't like each other very much. Her fiance, Marcy, completes her family and will soon make the leap from Brooklyn to join the chaos in NJ.