There Is a Plan C: Increasing Abortion Access Online and By Mail
Session Type(s): Training
Training Tag(s): Grassroots Organizing/Campaigns
Starts: Saturday, Aug. 20 2:00 PM (Eastern)
Ends: Saturday, Aug. 20 3:00 PM (Eastern)
While we all prepare for a post-Roe future, the reality is that too many are already living it. With traditional routes of abortion access restricted and criminalization threatened, amplifying an alternative option has become paramount. Abortion pills are available online and by mail, right now. In spite of censorship, shadow-bans, and stigma, Plan C Pills utilizes creative digital strategies to ensure everyone in the U.S. knows about abortion pills: what they are, how they work, and how people are accessing them. As access to abortion care becomes more and more difficult this information becomes critical. Participants will leave this training with newfound knowledge around self-managed abortion and with creative digital strategies to amplify available resources.
Moderators
Caitlyn Caruso (they/she), also known as Cece, has over 8 years of experience in the sexual health field, predominantly in community organizing, engagement, and communications. They approach all of their work from a reproductive justice framework and are humbled to have worked across the field in several capacities over the years. They attended University of Nevada Las Vegas, and received a Bachelor's degree in Critical Race, Gender, & Ethnic Studies with a concentration in communications before moving across the country to Washington DC. It was there that they joined Advocates for Youth as their state and local campaigns manager, working specifically with young people and students across the nation.
She now works at Plan C Pills, serving as their digital organizing manager. When Cece's not working, she's spending time with her two cats and partner, doing mutual aid work, and doodling/painting the hours away.
Other sessions: Post-Roe Doesn't Mean Post-Abortion ... If You Step Up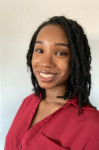 Imani Wilson-Shabazz is a recent graduate of the UCLA Fielding School of Public Health, earning an MPH in Community Health Sciences with a certificate in Population and Reproductive Health. She is currently a Ph.D. Candidate in Social and Behavioral Sciences at Temple University. Her research focuses on transforming family planning systems and institutions to empower queer individuals of color to make informed and affirmed reproductive choices. Ms. Wilson-Shabazz currently works at Plan C as their Partnerships and Engagement Manager, facilitating community partnerships to increase awareness of abortion pill access around the country. She also provides lectures, webinars, and educational videos on how to advocate for, and promote medication abortion access in diverse communities.