Feminist Buzzkills Live! from Netroots Nation
Session Type(s): Special Event
Starts: Friday, Aug. 19 12:15 PM (Eastern)
Ends: Friday, Aug. 19 1:00 PM (Eastern)
Room: 315/316
Lizz Winstead (co-creator of The Daily Show) returns to Netroots with an in-person version of Feminist Buzzkills Live!, the podcast from her reproductive rights organization Abortion Access Front. Join Lizz and cohosts Moji Alawode-El (writer, activist, marketing guru Abortion Access Front) and Marie Khan (activist and programs director at Midwest Access Coalition) as these hilarious and brilliant experts on all things abortion break down the news from patriarchy's evil trilogy of misogyny, white supremacy, and anti-abortion extremism. Your Buzzkills will make sense of all the madness with policy experts and leaders in the reproductive health, rights, and justice movements, giving you news you're not getting in the mainstream media. Or any media. Or really, anywhere—so grab your lunch and meet us for the latest on all things abortion.
Panelists
For the past 6 years, Moji has used her team building expertise to help organize and grow Abortion Access Front's fight against the patriarchy and abortion extremism. She is currently boot-on-the-ground at AAF; speaking at rallies, podcast hosting, counter-protesting, volunteering at clinics and out on the road with the team raising hell. Moji loves yoga, reading sci-fi by femme people & people of color, roller skates and talking really loudly about her own abortion and reproductive rights in public spaces. Moji is a graduate of Sarah Lawrence College and is currently having too much fun raising an adorable-assed feminist in Harlem. Moji's on the ground experience working closely with clinics, and her wealth of knowledge on legislative trends brings to the Feminist Buzzkills Live podcast the much needed perspective of just how relentless these legislative attacks are and how they emotionally and practically affect clinics and their ability to provide care.
Other sessions: Feminist Buzzkills Live! from Netroots Nation, Feminist Buzzkills Live! from Netroots Nation, Dismantling the Deception: How to Stop Anti-Abortion Centers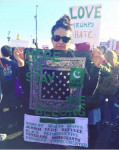 Marie has been with AAF since spring of 2019. As the operations manager she tries to helpfully interfere with all projects, and particularly enjoys participating in fundraisers and events benefiting the invaluable independent abortion clinics all over the United States. Marie has a masters in Criminology and worked in public higher education in Chicago for over a decade as an academic counselor and fellowship and scholarship advisor. She has been the the Director of Operations for Midwest Access Coalition since late 2016, a practical support abortion organization that assists folks with transportation, lodging, childcare, and other costs that create major barriers for those seeking safe abortion care.
Other sessions: We Keep Us Safe: Oppositional Data Collection As Community Care, Feminist Buzzkills Live! from Netroots Nation, Feminist Buzzkills Live! from Netroots Nation