Keynote: A 2015 Progress Report
Session Type(s): Plenary
Starts: Friday, Jul. 17 6:15 PM (Eastern)
Ends: Friday, Jul. 17 7:15 PM (Eastern)
Immigration activists successfully pushed President Obama to expand DACA and DAPA, but those programs are now on hold in the federal courts while activists continue to work to stop deportations, put an end to out-of-control ICE enforcement and push for more just policies. The LGBT community has made strides in ensuring that gay couples across the country can marry, but there are still many issues to be tackled: full equality for transgender people, workplace discrimination and adoption and custody issues, to name just a few. And although we've seen the minimum wage in cities across the country increase, workers continue to push for more progressive work policies. How do we continue to make progress on issues like immigration? How do we move closer to full equality and economic opportunity for everyone?
Scroll down for full video and clips from the session.
Full video

Carlos Garcia and Felipe Sousa-Rodriquez

Michael Crawford, Heather Cronk, Jennicet Gutierrez

Tefere Gebre

Panelists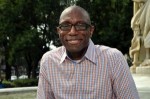 Michael Crawford is Director of Online Programs at Freedom to Marry where he manages the organization's websites, email program, online fundraising, and social media presence. He was a leading strategist for the successful campaign to win freedom to marry in Washington, D.C. with a focus on public education, community outreach, and communications strategy. Michael was named as one of The Advocate Magazine's 2009 People of the Year and one of The Washington Blade's Ten People Who Make Us Proud. He was awarded the Gay & Lesbian Activists Alliance Distinguished Service Award in 2010 for his work to win marriage in Washington, D.C. He was a 2011 fellow in The Pipeline Project's 21st Century Fellows Program.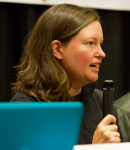 Heather joined GetEQUAL in May 2010. Prior to her work with GetEQUAL, Heather was the Chief Operating Officer at the New Organizing Institute, overseeing operations and expanding programs. Heather has also worked with organizations such as mySociety in the U.K. and with Idealist.org in the U.S., always focused on building community and pushing for tangible social change. A native of Lexington, KY, Heather holds a Bachelor of Arts degree in religion/philosophy from Berry College in Rome, GA, and a Master of Divinity degree from Wake Forest University Divinity School in Winston-Salem, NC.
Other sessions: Taming the Trojan Horse of Religious Discrimination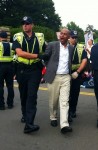 Tefere Gebre is the Executive Vice President of the AFL-CIO, the national federation of labor unions representing 12.5 million workers. Tefere was the first former political refugee and the first local labor council leader elected to this national office. As a child refugee from Ethiopia Tefere found his way to Sudan and then to Los Angeles, California where he studied and earned a college scholarship. His first union job was a UPS night shift loader with Teamsters Local 396. Later Tefere led political and government relations for the Laborers Local 270 and the California Fed. He then helped redefine and dramatically grow the labor movement as Executive Director of the Orange County Labor Federation by doubling its political capacity and growing key community partnerships. Now EVP Gebre leads efforts to improve local labor political and organizing capacity, as well as to advance voting rights, racial justice and immigrant workers' rights.
Other sessions: The Great Equalizer: Advancing the Cause of Civil Rights through Organizing, The Evolution of Immigrant Rights: From Political Empowerment to Progressive Change
Felipe is an advocate for undocumented immigrants and LGBTQ people in the US. He walked from Miami to Washington, DC to highlight the pain of undocumented immigrants. He has spent the last two years working at GetEQUAL, a national social justice LGBTQ organization. He has become a leading voice on the intersection of LGBTQ issues and immigrant rights. He is the current Deputy Managing Director of United We Dream (UWD).
Other sessions: Hashtag Activism: How the Rising American Electorate is Moving Beyond Broadcast Campaigns