A Movement Not a Moment: Fighting Fast Track in Arizona (sponsored panel)
Session Type(s): Panel
Starts: Saturday, Jul. 18 4:30 PM (Eastern)
Ends: Saturday, Jul. 18 5:45 PM (Eastern)
Over the past year, progressive activists have joined together across the country to organize unprecedented grassroots opposition to the deeply flawed Fast Track process for passing trade deals. In this session, we will learn how activists built this movement in Arizona and what lessons we can carry forward as we work together on other issues.
This panel is sponsored by Communication Workers of America.
Moderator
Since early 2012, Rafael Navar has served as the National Political Director for the Communication Workers of America (CWA), the largest Telecommunications union in the world. As one of only two current Latino National Political Directors within organized labor, he is committed to building one of the most progressive rank and file led political programs in the country.
Rafael began his career working in support of international human and indigenous rights with the National Commission for Democracy in Mexico, coordinating the US portion of an international referendum on indigenous rights. His later experiences as a community organizer eventually led him to join SEIU Local 99 as Political Director. While there, Rafael dramatically increased fundraising, volunteer recruitment, and community activism, eventually assuming responsibility for SEIU International's political operations for the entire Western Region.
Born and raised in East Los Angeles, Rafael currently resides in Washington DC.
Panelists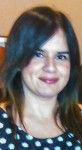 Yolanda Bejarano has been in the Arizona music scene for more than 20 years. Her musical projects range from punk to mariachi. Though she has always been an advocate for human rights, SB 1070 was the catalyst to get involved on a deeper level in the community as an organizer. Yolanda is now the Legislative/Coalition Director for Communication Workers of America, where she builds relationships with other organizations in order to advance the pro-worker, pro-human rights agenda.
Other sessions: The Arizona Sound Strike: 5 years later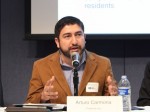 Arturo Carmona is the Executive Director of Presente.org. Presente.org is the largest national Latino online engagement organization in the US, focused on amplifying the political voice of Latino communities.
For well over a decade, Arturo has used his leadership and experience to bring people together on important challenges impacting communities from across the nation. Arturo has served as a political analyst, community spokesperson, and community organizer with an established expertise is in the evolving political, cultural, and demographic trends of the US. He is recognized as a change-agent.
His management and leadership skills have made him a national spokesperson on behalf of the Latino community and working families. He has appeared in many news stories, interviews, and political discussions through outlets such as MSNBC, ABC, CNN, Time Magazine, The New York Times, The Los Angeles Times, Univision, Telemundo, USA Today, NPR, La Opinion, and many others.
Other sessions: The Evolution of Immigrant Rights: From Political Empowerment to Progressive Change, Progressives' Role in the 2016 Primary Debate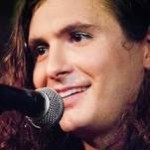 Evan Greer is a radical queer singer/songwriter, organizer, parent, and workshop facilitator based in Boston.
Other sessions: How to start a riot: Grrls, queers, and other rabble rousers