Trans Organizers Are Winning the Internet
Starts: Saturday, Jul. 18 4:30 PM (Eastern)
Ends: Saturday, Jul. 18 5:45 PM (Eastern)
Transgender people of color are building deep community online and demanding accountability across the progressive movement and in the halls of power. Despite constant violence and erasure, even in movement spaces, transgender organizers are using the internet to create space for their communities to thrive. This panel will feature three trans organizers of color at the forefront of racial, immigration, and queer justice movements that are using innovative online organizing to make waves, win campaigns, and combat erasure.
Moderator
Panelists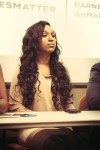 Elle Hearns is a organizer,speaker,strategist,and writer. Elle's voice as a community organizer and speaker were formed from her upbringing in Columbus, Ohio as a youth organizer. Ms. Elle is a co-founding member of the Black Lives Matter network an organization formed with multiple local chapters as a political project in the wake of the murder of Trayvon Martin in order to explicitly combat implicit bias and anti-black racism and to protect and affirm the beauty and dignity of all Black lives. In her role before stepping down she was formerly a strategic partner
​to​ BLM co-founders Patrisse Cullors, and Opal Tometi and to local chapters of the organization as the former interim Organizing Director advocating for Collaborative Solidarity across the network and Black Liberation movement. Elle has been honored with the Young Women's Achievement Award for Advocacy and Organizing by the Women's Information Network, the Black Feminist Human Rights Defender award by Black Women's Blueprint,and ​was named a Woke 100 honoree by Essence Magazine.
Ms. Elle currently is the Executive Director of The Marsha P. Johnson Institute an organization founded in 2015 that works to create a crucial entry point for Black transgender women to advocate for an end to violence against all trans people through advocacy, transformative organizing, restoration, civil disobedience and direct action. The organization is credited for organizing the first ever National Day of Action for Black Trans Women in response to the murders of Amber Monroe, Kandis Capri, and Elisha Walker and held organized events in multiple cities including New York City,Chicago, and Washington DC.
As a speaker Elle has delivered keynotes and talks at Harvard University, the Schomburg Center for Research in Black Culture,The Public Theatre,and for The National Lawyer's Guild,Columbia University, Stanford University and NYU.
Prior to founding The Marsha P. Johnson Institute Ms. Elle worked for LGBT organization GetEQUAL an organization that she shifted from an equality framework to one that was centered more on the liberation of LGBTQ people. During her time there she successfully led many campaigns including More Than Marriage a digital campaign detailing why LGBTQIA people needed more than marriage equality to be "free", Year Without Tamir a campaign honoring the life of Tamir Rice a 12 year old who was murdered by the Cleveland Police Department in which the campaign demanded and advocated for a new prosecutor for the case and in Cuyahoga County, and the firing of the officers and all responsible for his murder. Elle operates politically from the perspectives of black nationalism,humanist theory, and black trans theory and practice. She credits Malcolm X, Marcus Garvey, and Marsha P. Johnson as her teachers. Their words along with her life experiences are what she credits for politicising her.
Elle's writings have been published by The CUNY Law Review and Ebony magazine. Her
​ ​work has also been chronicled and featured by Time, CNN, MTV, The New York Times, Alternet, Democracy Now, The Daily Dot, Fusion, Essence Magazine,The Root, Alternet, Telesur TV and The Washington Post.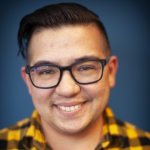 Cayden Mak is Executive Director at 18 Million Rising, organizing Asian Americans and Pacific Islanders (AAPIs) and their allies online. As part of 18MR's founding staff, they were an integral part of developing the organization's vision, voice, analysis, and playbook. In their previous role as Chief Technology Officer, they were the driving force and product manager behind community-centered design for civic tech project VoterVOX, a community-designed matching tool to help find personalized volunteer translation assistance for limited English proficient voters.
Their organizing history also includes cofounding grassroots media startups (youngist.org), cofounding a statewide student organizing network (New York Students Rising), serving as a union officer and staff organizer (CWA 1104, Education Division), and contributing to organizing the Allied Media Conference in Detroit, MI.
In addition to their day job, they serve as the chair of the advisory board for the Kairos Fellowship, and enjoy powerlifting and Magic: the Gathering.
Other sessions: #EpicFail: A Look at GOTV Failures (So You Don't Repeat Them)