Atlas Riffed: A Live-Riffing Of Atlas Shrugged Part Two
Session Type(s): Screening Series
Starts: Saturday, Jul. 19 3:00 PM
Ends: Saturday, Jul. 19 5:00 PM
Room: 142 C
In the style of Mystery Science Theater 3000, RiffTrax and Cinematic Titanic, Laughing Liberally comedians Josh Bolotsky and Matthew Filipowicz will spend one memorable evening performing Atlas Riffed, a live, second-by-second running commentary on the middle chapter of the notoriously awful film trilogy of Ayn Rand's libertarian manifesto, Atlas Shrugged: Part Two. We're going to make one of the worst films ever made actually fun to watch – and slowly but surely advance our covert crypto-communist agenda on an unsuspecting public. http://www.youtube.com/watch?v=SfEb0ci_jWY
Moderators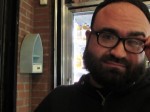 Josh is New Media Director for The Other 98%, a netroots-powered social justice movement waging war on American plutocracy.
Other sessions: Test Screen Your Video, Online Media + Social Graphics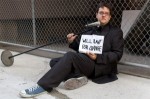 Matthew Filipowicz is a comedian, cartoonist, satirist and the host of The Matthew Filipowicz Show, a progressive political talk show. His work has been featured on Ain't It Cool News, the Atlantic, the BBC, CNN, HBO, the Huffington Post, the London Times, the Nation, the New York Times, NPR, PBS, the Wall Street Journal and many other outlets.
Before starting his own talk show, Matthew was a regular contributor and sometime guest host for Ring of Fire Radio. For close to three years he created a daily satirical political cartoon for the website Headzup.tv. He has also created videos for the ACLU, the Center for Media and Democracy, Mother Jones, MoveOn.org, the Nation, the National Conference for Media Reform, Netroots Nation, NYSUT, Vote Vets, the Young Turks and more.
He is the the national coordinator for Laughing Liberally and the chapter head of Laughing Liberally Boston.
Other sessions: Laughing Liberally Comedy Show, Changing the Climate on Climate Change: A Showcase of Films for Environmental Action