Our State Courts: The Sleeper Seats of Power
Session Type(s): Panel
Starts: Friday, Aug. 19 11:00 AM (Eastern)
Ends: Friday, Aug. 19 12:00 PM (Eastern)
Our state courts hold tremendous power in our system of government. They can help ensure fair district maps, protect our freedom to vote, and even safeguard reproductive freedom. As state courts have taken center stage in these debates over our essential freedoms, extremist politicians are ramping up their attacks on fair and independent courts, and conservative dark money groups are preparing to dump tens of millions of dollars into state supreme court races this year. Join us to learn what's at stake in your state and across the country, as state courts and constitutions play an increasingly central role in protecting voting rights and reproductive rights.
Moderator
Panelists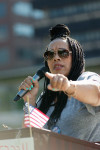 A West Chester, PA native and Temple University grad, Kadida Kenner was most recently a writer, producer, and director for college sports television programming in Charlotte, NC. Energized by the 2016 elections, she decided to take a hiatus from TV production, and return to campaign work as a field and digital organizer for the NC Democratic Party's coordinated campaign. Following the elections, Kadida moved back to Pennsylvania and currently lives in Harrisburg while working as the director of campaigns for the Pennsylvania Budget and Policy Center (PBPC). The We The People – PA (WTP-PA) campaign and the Why Courts Matter – PA (WCM-PA) campaign are both led by PBPC. We The People is a nonpartisan campaign that aims to make state government work for all of us. The agenda was created from the ground up by people who came together in meetings across Pennsylvania. WCM is a non-partisan coalition of organizations and advocates working to ensure our federal courts are filled with diverse, independent, well-qualified, mainstream jurists who are dedicated to fairness and impartiality, and keeping with the core constitutional values of liberty, equality and justice for all.
Other sessions: How to Fight Back Against Intentional Discrimination of Voting Rights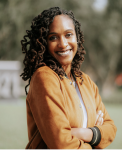 Renee Parker Sekander was born and raised in Memphis, TN and graduated from University of Tennessee, Knoxville in 2016. The first time Renee ever voted, she faced so many obstacles that she left the polls feeling like the process was too hard to navigate.
She was a college student at the time, and registered in Shelby County, 6 hours away from where she was studying. Unaware that first time voters who register to vote online must vote in person in their first election, she unexpectedly had to drive a collective 12 hours to cast a ballot. Strict laws and barriers make Tennessee one of the hardest places in the country to cast a vote, which contributes to our low voter turnout and low voter confidence as a state.
Sekander went on to work at human rights nonprofits like Amnesty International USA serving as the Canvass Director for their Los Angeles office. During the 2020 Presidential race, Renee served in Mobilization Director and Regional Field Directors positions on the Warren campaign, Amy McGrath campaign, and the coordinated campaign for Warnock and Ossoff in Georgia.
Now, Renee serves Organize Tennessee as Executive Director. Her goal? Protect every single Tennessee voter and defend our democracy.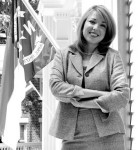 Melissa Price Kromm is the Director of North Carolina Voters for Clean Elections, where she has served as its lobbyist and leader of the statewide pro-democracy coalition for the past twelve years. The coalition coordinates advocacy in structural democracy, voting rights, campaign finance reform, government ethics and transparency, redistricting reform, judicial independence, the right to protest, and election crisis prevention. Kromm led efforts to pass campaign finance disclosure reform, voting rights reform, and stop attacks on judicial independence. Recently, Kromm led the coalition to stop bills promoting campaign finance secrecy, attacking the freedom to vote, limiting the right to protest, and spearheaded pioneering legislation to prevent election subversion. Before joining North Carolina Voters for Clean Elections, Kromm was part of a successful effort to pass same-day voter registration at early voting sites in North Carolina and pre-registration of 16 and 17-year-olds.