How to Fight Back Against Intentional Discrimination of Voting Rights
Session Type(s): Panel
Starts: Friday, Aug. 19 1:30 PM (Eastern)
Ends: Friday, Aug. 19 2:30 PM (Eastern)
"In Florida, since the end of the Civil War, politicians have attacked the political rights of Black citizens. In Florida, though we have come far, the realistic fact is that we still have a long, long way to go." Those were the words of Chief Federal Judge Mark E. Walker when he issued his ruling invalidating Senate Bill 90—a suppressive law approved by the conservative-led Florida legislature in 2021. This panel will highlight the victory of the SB90 trial, the history of intentional discrimination of voting rights in Florida and across the country—and how you can use this victory to fight against voter suppression laws in your state.
Moderator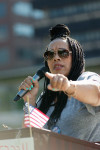 A West Chester, PA native and Temple University grad, Kadida Kenner was most recently a writer, producer, and director for college sports television programming in Charlotte, NC. Energized by the 2016 elections, she decided to take a hiatus from TV production, and return to campaign work as a field and digital organizer for the NC Democratic Party's coordinated campaign. Following the elections, Kadida moved back to Pennsylvania and currently lives in Harrisburg while working as the director of campaigns for the Pennsylvania Budget and Policy Center (PBPC). The We The People – PA (WTP-PA) campaign and the Why Courts Matter – PA (WCM-PA) campaign are both led by PBPC. We The People is a nonpartisan campaign that aims to make state government work for all of us. The agenda was created from the ground up by people who came together in meetings across Pennsylvania. WCM is a non-partisan coalition of organizations and advocates working to ensure our federal courts are filled with diverse, independent, well-qualified, mainstream jurists who are dedicated to fairness and impartiality, and keeping with the core constitutional values of liberty, equality and justice for all.
Other sessions: Our State Courts: The Sleeper Seats of Power
Panelists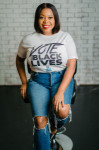 Jasmine Burney-Clark, is a civic engagement professional who has dedicated her personal and professional career to social and electoral justice across the state of Florida. She's the Founder of Equal Ground Education Fund and Action Fund, a Black-led community centered civic engagement organization prioritizing voter registration, education and turnout.
Most recently she was a Senior Advisor to the NAACP(National) and Executive Director of the Florida 501c3 Civic Engagement Table where she advanced work through three (3) statewide programs: Civic Engagement (voter registration and turnout, issue advocacy, and constituency engagement), Civic Access (voting rights and election administration) and Civic Representation (census, redistricting and "clean elections"). She worked to expand equal access to the ballot box on behalf of the New American Majority.
Notably, she has worked in Florida politics since 2010 for Alex Sink for Governor, Geraldine Thompson for Senate, Tom Steyer's NextGen America, Democracy at Stake – Florida's Supreme Court Judicial Retention initiative and Faith in Florida an affiliate of Faith in Action.
She's a member of Alpha Kappa Alpha Sorority Inc., and resides in Orlando, FL with her husband Dominic Clark.
Roni Druks is a Staff Attorney for the Advancement Project's Power and Democracy program. At the Advancement Project her work supports grassroots partners who are fighting against felony disenfranchisement laws designed to suppress the voting power of people of color in the United States. Previously, Roni served as a tenants' rights attorney at TakeRoot Justice where she worked alongside tenant associations and tenant organizers in their fight against landlord harassment and displacement in New York City. Roni is a graduate of Harvard Law School where she served as a student attorney in the International Human Rights Clinic and Legal Services Center. She is a member of the New York bar.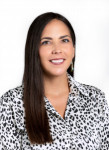 Andrea Cristina Mercado is a Co-Founder and Campaign Director of the National Domestic Workers Alliance, and Co-Chair of the We Belong Together Campaign. Andrea has been organizing immigrant women since 2001. From 2004-2012 she was Community Organizer and Political Director at Mujeres Unidas y Activas (MUA), where she coordinated the California Domestic Worker Coalition that spearheaded the successful passage of Domestic Worker Bill of Rights legislation. She now supports domestic worker campaign initiatives across the country. She is passionate about leadership development, organizing and movement building. As Co-Chair of We Belong Together she leads a movement that inspires women from all walks of life to come together for immigration reform.