The Road to Recovery: Progressive Economic Policy in a Post-Trump, Post-COVID America
Session Type(s): Featured Keynote Panel
Starts: Friday, Aug. 14 2:00 PM (Eastern)
Ends: Friday, Aug. 14 3:30 PM (Eastern)
The COVID-19 pandemic has wreaked financial havoc on millions of Americans. And while the national response to this crisis has been poorly managed from the start, working families have been systematically stripped of safety nets for decades. It is not enough to return to where we were before the pandemic– we must lift working families out of poverty and fortify our nation against future disasters. Reimagining our economic policies isn't just possible — it's necessary for our survival. Join us for a conversation about the steps the next administration must take to steer us out of this unprecedented crisis and how progressive economic policy will address much more than just the fallout of COVID-19.
Moderator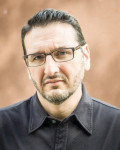 David Dayen is the executive editor of The American Prospect magazine. He is the author of Chain of Title: How Three Ordinary Americans Uncovered Wall Street's Great Foreclosure Fraud (2016), winner of the Studs and Ida Terkel Prize, and Monopolized: Life in the Age of Corporate Power (2020), released in July. His work has also appeared in The Nation, The Intercept, The New Republic, Vice, HuffPost, the Washington Post, the Los Angeles Times, and more. He has been a guest on MSNBC, CNN, Bloomberg, CNBC, NPR, and Pacifica Radio. He lives in Los Angeles.
Other sessions: Reviving Regulation: The Key to the Next President's Success
Panelists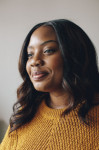 Rhiana Gunn-Wright is the Director of Climate Policy at the Roosevelt Institute. Before joining Roosevelt, Gunn-Wright was the policy director for New Consensus, charged with developing and promoting the Green New Deal. Previously she served as the policy director for Abdul El-Sayed's 2018 Michigan gubernatorial campaign. A 2013 Rhodes Scholar, Gunn-Wright has also worked as the policy analyst for the Detroit Health Department, was a Mariam K. Chamberlain Fellow of Women and Public Policy at the Institute for Women's Policy Research, and served on the policy team for former First Lady Michelle Obama. She graduated magna cum laude from Yale in 2011 with majors in African American studies and women's, gender, and sexuality studies.
Other sessions: How Progressives Can Shape the Democrats' 2021 Climate Agenda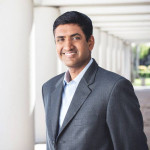 Congressman Ro Khanna represents California's 17th Congressional District, located in the heart of Silicon Valley, and is serving in his first term. Rep. Khanna sits on the House Budget and Armed Services committees and is a vice chair of the Congressional Progressive Caucus.
Rep. Khanna is committed to representing the people and ideas rooted in Silicon Valley to the nation and throughout the world. For each job created in the high-tech industry, another four jobs are created. The tech multiplier is even larger than the multiplier for U.S. manufacturing. Rep. Khanna will work to ensure the technology sector is at the forefront of U.S. economic policy and strive to provide opportunities to those our changing economy and technological revolution has left behind. To do so, the U.S. must implement policies that will not only create tech jobs in Silicon Valley but across America. This includes job training programs, economic development initiatives, re-wiring the U.S. labor market, and debt-free college to help working families prepare for the future.
Other sessions: Rethink Trade: Why Progressives Must Reclaim the Trade Debate From Trump, #NoWarWithIran and Building an Intersectional, Internationalist Movement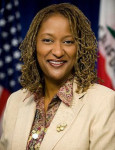 Holly J. Mitchell is a Democratic State Senator for California's 30th Senate District. She previously represented the 26th Senate District. Prior to being elected to the State Senate, she served in the California State Assembly representing the 54th Assembly District. She is also a member of the California Legislative Black Caucus. In 2016 Mitchell became the first African American to Chair the Senate Budget and Fiscal Review Committee, where she has overseen the passage and adoption of two consecutive state budgets. Before working in the Legislature, she served for seven years as CEO of the nonprofit Crystal Stairs. She also served as a Consultant to the Senate Health Committee, and as a legislative advocate for the Western Center on Law and Poverty. In 2018, she was named vice chair of the Joint Legislative Subcommittee on Sexual Harassment Prevention and Response, formed in response to the #MeToo movement. Mitchell is currently a candidate in the 2020 election to represent District 2 on the Los Angeles County Board of Supervisors.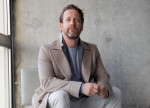 Joe Sanberg is a progressive champion, successful entrepreneur, and a national leader in the fight against poverty. He has been one of the nation's leading advocates for the Earned Income Tax Credit (EITC) for low-income families. In 2015, he successfully lobbied legislators in his home state of California to create the state's first EITC. This led him to create CalEITC4Me, a community organizing program that has connected working California families with more than $4 billion of state and federal Earned Income Tax Credits.
In 2018, Joe founded Working Hero PAC, a national, people-powered political organization launched to support elected leaders and candidates who champion policies that will help #EndPoverty. He later created Working Hero Action to expand his successful model of EITC outreach beyond California, and advocate for policies that will help all Americans afford their basic needs.
Joe is Co-Founder of Aspiration.com, an online financial institution that empowers people to bank, invest, and spend in accordance with their values. He also serves on the board of the Economic Innovation Group and the Jefferson Awards Foundation, and on the Board of Trustees of the University of California, Riverside School of Public Policy.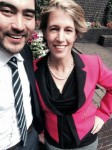 Zephyr Teachout grew up in a farming community just a few hours from Dutchess County, where she lives. She is a national leader, speaking up against the corruption of our political system by special interests and big corporations. Just before running for Congress she was even writing a book about the small business economy.
For her entire career Zephyr has been fighting for people who have been shut out– and gotten results. She was the first National Director of the Sunlight Foundation, a non-partisan organization that works to make Congress more open and transparent. After the crash of 2008, she helped start an organization to break up big banks who had become "too big to fail" and have damaged our small businesses.
Zephyr is a reform-minded leader who has never been afraid of standing up to powerful special interests and the political establishment, even members of her own party. In 2014, she ran against the Governor because of the corruption in Albany. Her grassroots campaign shocked political insiders when she garnered 35% of the vote, including majorities across the counties that make up NY-19.