Climate President: Organizing for Climate Justice through Transformative Executive Action
Session Type(s): Panel
Starts: Friday, Aug. 14 11:00 AM (Eastern)
Ends: Friday, Aug. 14 11:50 AM (Eastern)
The climate crisis, like police brutality and the COVID-19 pandemic, is inextricable from racial injustice. With Black, Brown, and Indigenous communities bearing the brunt of dirty energy extraction, pollution, and resulting climate impacts, there has never been a more urgent time for the next President to take immediate action for climate justice. The assumption that Congress alone holds the keys to climate action is a sabotage strategy peddled by fossil fuel executives and their allies on the political right. Over 500 leading climate, environmental, racial and economic justice, and youth organizations representing millions of people nationwide have backed a set of sweeping executive actions to advance climate justice. Together we will unpack the top executive actions the next President must take the moment they step in the oval office–without waiting for Congress.
Moderator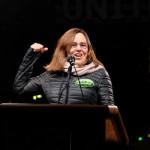 Annie Leonard is the Executive Director of Greenpeace USA an independent environmental organization which uses research, creative communication, non violent direct action and people-power to advance environmental solutions. Prior to this role, she created The Story of Stuff, a hit 20-minute web film and book that take viewers on an eye-opening tour of the often hidden environmental and social costs of our consumer driven culture. The Story of Stuff film has generated over 40 million views in more than 200 countries and territories since its launch, making it one of the most watched online environmental-themed films to date and sparking a much needed conversation about patterns of consumption today. She is currently partnering with Jane Fonda on their Fire Drill Fridays project to inspire more people to join climate activism.
Panelists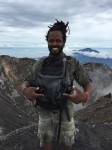 Selected as one of the Grist.org 50 People You'll Be Talking About in 2016, Anthony K. Rogers-Wright has over ten years of policy analysis, community organizing and outreach/advocacy experience. While serving as a policy analyst for various environmental consulting firms in California and Colorado, he specialized in land use, Clean Air Act and environmental justice compliance. He has used his organizing and outreach experience to advocate for a variety of social justice campaigns including environmental justice, affordable health care access, income inequality and civil rights for LGBT citizens. In 2012, Anthony led the effort to make Colorado Health Insurance Cooperative the first health insurance provider in the State's history to remove transgender health exclusions from all of their policies.
In 2016, he acted as a surrogate and policy advisor for the Sanders presidential campaign and testified on the need for increased action on climate justice to the DNC Platform Committee. He's written numerous articles discussing the axiomatic nexus between the climate crisis and social justice, and spoken of this issue at universities throughout the United States and in Europe.
Anthony earned his undergraduate degrees in Environmental Science and Policy and Jazz Composition as well as his Graduate Degree in Community Development, Environmental Science and Public Policy.  He is blessed to be the father of his energetic, entertaining and VERY loquacious three-year old son, Zahir Cielo (aka "Bean").
Other sessions: How Progressives Can Shape the Democrats' 2021 Climate Agenda, Designs on Democracy: Using Graphic Design to Reframe the Story and Win, Climate Change and COVID-19: What the Pandemic Teaches Us About Preparing for Disaster
As the Campaign Strategist focused on Climate Equity for Dēmos, Adrien Salazar supports advancing climate change policy that centers racial and economic equity through partnerships with local, state, and national movement partners. Adrien is an organizer, political ecologist, and writer who advocates for just and regenerative visions for our economies and environment led by communities. Adrien is from San Jose, California and Kalibo, Aklan, Philippines and enjoys hiking, running, gardening, and visiting the sacred places of the earth.