Reclaiming Native Truth to Change the Narrative
Session Type(s): Panel
Starts: Saturday, Jul. 13 2:15 PM (Eastern)
Ends: Saturday, Jul. 13 3:15 PM (Eastern)
Data on current attitudes toward Native communities is almost non-existent. Reclaiming Native Truth was a two-year project that collected data, expert insights, and created a collaborative space which engaged grassroots, tribal and community leaders about what people think about Native communities and issues. Changing public perceptions is fundamental to creating a new narrative to advance social and policy change for racial justice and the achievement of tribal sovereignty. The workshop will examine the results of the report and explore the impact on building racial justice movements with strong ties to Native Nations and communities.
Moderator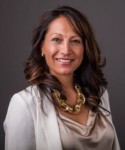 Crystal Echo Hawk, a citizen of the Pawnee Nation in Oklahoma, is a passionate advocate for the rights of Native peoples and has worked in social justice, philanthropy and as an entrepreneur. In 2014, she founded Echo Hawk Consulting. The mission of Echo Hawk Consulting is to create new platforms, narratives, strategies and investment that can help to catalyze transformational change for and by Native Americans. It partners with Native American, philanthropic and diverse multi-sector partners to drive institutional, policy and culture change. Crystal was recognized by the National Center for American Indian Economic Development as its 2018 "Native American Woman Business Owner of the Year.
Crystal and Echo Hawk Consulting designed and co-led Reclaiming Native Truth, a $3.3 million project in 2016-2018. It was the largest public opinion research initiative ever conducted by, for and about Native Americans. It mapped the dominant narratives and invisibility that negatively impact Native peoples at every level of society. The findings proved that toxic misconceptions and erasure of Native peoples create harmful biases among critical power holders including Courts, Congress, and across society.
Crystal recently founded, IllumiNative, a nonprofit organization, to translate the formative research from Reclaiming Native Truth into action. Its mission is to illuminate the vibrancy and importance of Native voices, stories, and issues in media, pop culture, K-12 education, philanthropy and other key sectors and to challenge the invisibility and negative narratives about Native peoples. IllumiNative is partnering with diverse Native peoples and allies to transform the way Americans and key institutions think about and engage with Native peoples.
Crystal received her master's degree in Social and Political Thought and bachelor's degree in European History from the University of Sussex at Falmer, England. 
 You can find her on Twitter @CrystalEchoHawk and on the web at: www.illuminatives.org
Panelists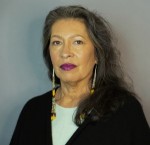 I am a member of the Caddo Tribe of Oklahoma and director of the Native Organizers Alliance (NOA), a national Native training and organizing network. NOA builds relationships with tribes, traditional societies and grassroots community groups in key Native communities and reservations through Native community organizing training and strategic campaign planning.
At the core of my work is the belief that organizing a grassroots, durable ecosystem of Native leaders and organizers who share a common theory of change rooted in traditional values and sacred practices is necessary to achieve tribal sovereignty and racial equity for all.
The path to transformational social change is built upon an ecosystem of relationships or as we say in Indian Country, being "a good relative." Being a "good relative" is walking in total awareness of the environment, past, and future, and acting, in the present, in harmony with all in the natural world and humanity.
I am a board member of IllumiNative, and chair of the board of NDN. I am currently a Roddenberry Fellow.
Other sessions: Equality at the Ballot Box: Lessons from Standing Rock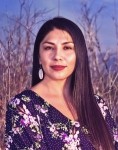 Sarah Sunshine Manning, NDN Collective Director of Communications, is a citizen of the Shoshone-Paiute Tribes of the Duck Valley Indian Reservation in Idaho and Nevada, and Chippewa-Cree of Rocky Boy, Montana. Manning directs NDN Collective's communications strategy and impact. She also and serves as producer of the NDN Podcast While Indigenous and as editor of the NDN blog. Working formerly as an independent reporter and columnist, Manning is also an award-winning journalist, covering issues impacting Indigenous lands and communities.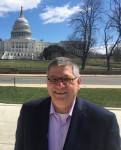 Mark Trahant, Shoshone-Bannock, is editor of Indian Country Today.
Other sessions: Indigenous Voices Rising in the Progressive Landscape