No Guns, No Police: What Safe Schools Actually Look Like for Students of Color
Session Type(s): Panel
Starts: Thursday, Jul. 11 3:45 PM (Eastern)
Ends: Thursday, Jul. 11 4:45 PM (Eastern)
How do we create safe schools? In the wake of seemingly nonstop mass shootings, there's a renewed sense of energy around this question. But, more often than not, the answer is reserved for an adult. Not Black and Brown students, girls of color, survivors of violence, immigrant youth, or LGBTQ students, who already face threats to their safety and well being in school. Worse still, our Secretary of Education is advancing a school safety agenda that expands the school-to-prison pipeline and adds more guns and police officers to schools, which not only fails to decrease school violence but also actively harms students. Join youth activists for a conversation about what students of color actually need to feel safe in 2019.
Moderator
Nia Evans is a gender and racial justice organizer focused on creating safe, supportive schools for girls of color. As a Campaign Manager at the National Women's Law Center, she built the Let Her Learn campaign to end the criminalization of Black girls in school and regularly engages policymakers on student-based school safety issues, such as discriminatory discipline and sexual harassment. In 2018, she co-authored Dress Coded: Black Girls, Bodies, and Bias in DC Schools with 21 students to expose the impact of racist and sexist dress codes on girls' educations. Her work has spurred student and community activism and legislative action at the state and local level. Nia will receive her Masters in Education from Harvard University in 2020. Her work and words have been featured in USA Today, Vox, and NPR.
Panelists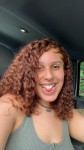 Sage Dolan-Sandrino is an 18-year-old citizen artist and aspiring filmmaker and creative director. Since beginning her transition at 13, through public advocacy, policy work, and journalism, Sage has taken on the responsibility of tackling the systemic issues within our public school system, arts education, trans-resource access inequity, exclusion, and disservice of trans youth and students in classrooms and communities across the nation. Named a Young Futurist of 2017 by The Root, she has served as an Ambassador to the Obama White House's Initiative on Educational Excellence for African-Americans, a youth council member to the Aspen Institute's National Commission on Social, Emotional, and Academic Development, a National Council Advisor for the National Center for Transgender Equality, and currently serves as a GLAAD Campus Ambassador and on The National Black Justice Coalition's Black Trans Advisory Board. This year Sage appeared in the Gucci x Irregular Labs film "The Future is Fluid" and has since continued to work closely with Chime for Change towards the amplification of youth voices and global gender equity.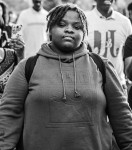 My name is Ceon Dubose, I am 17 yrs old and a senior at Idea Public Charter School in Washington, DC. My favorite color is blue( preferably sky blue). I've been a youth advocate for 5 years. I started my 7th grade year with the Black Swan Academy and fell in love with it. Within my 5 years I've organized panels, town halls, workshops, traveled many place and learned what advocating and organizing really means. In my advocacy, I helped get our city council to fund the Near Act, mental health support in school and pass the Fair Access to School Act. I am also a co-author of the NWLC report, Dress Coded: Black Girls, Bodies and Bias in DC Schools. I've also won awards for my poems and Youth leader of the year Award.
Da'Shaun Harrison is a nonbinary abolitionist and community organizer in Atlanta, GA. Harrison studied Sociology and African-American Studies at Morehouse College. He is now a professional writer and public speaker with a focus on race, sexuality, gender, class, religion, disabilities, fatness, and the intersection at which they all meet. His portfolio and other work can be found on his site:
dashaunharrison.com.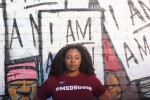 Mei-Ling Ho-Shing, like many of her classmates, became an activist after she survived the shooting at Marjory Stoneman Douglas High in Parkland, Florida that left 17 of her classmates and teachers dead. In the wake of the tragedy, and on the heels of nationwide school walk-outs and the March for Our Lives, Ho-Shing called for more than gun law reform alone. She's demanding an intersectional approach to the #NeverAgain movement.
Mei-Ling began her activism by calling and leading a press conference to amplify the voices and experiences of students of color, marking a new generation of activist aiming to be fiercely intersectional. Mei-Ling has addressed audiences on local and national platforms, including the National Young Feminist Leadership Conference, 50 Years After King: I AM 2018 Mountaintop Conference, Illinois Education Association Representative Assembly and the United State of Women 2018 Summit. Mei-Ling has been featured in local and national media outlets including Ms. Magazine, Essence Magazine, Seventeen Magazine, Florida Sun-Sentinel, Westside Gazette USA Today and the Washington Post.
She is inspired to give voice to radical change in gun laws and hopes to pay it forward by becoming a global social justice leader.
Yesenia Rodriguez has been a member of Youth United for Change's Leadership Committee and Research Committee for the past two years. She has been actively working for more mental health policies to be implemented in the Philadelphia School District by organizing students, giving testimony to City Council, co-authoring the National Women's Law Center's mental health report, and meeting with school district officials. She believes access to quality education is the most effective way solve most if not all of the world's problems. She plans to bring this passion to college this next school year, and has aspirations of going into diplomacy.