How We Fight Anti-semitism
Session Type(s): Panel
Starts: Friday, Jul. 12 9:00 AM (Eastern)
Ends: Friday, Jul. 12 10:00 AM (Eastern)
These things are all true at the same time: anti-semitic violence is increasing in the U.S.; the Right is using antisemitism as a tool to retain power and destroy Black and Brown-led movements; and the threat of antisemitism is tearing apart the Left. Antisemitism has been used as a wedge to break up social movements for generations. The progressive movement must deepen our understanding of how antisemitism works and how it is wielded politically in order to effectively fight back. In this moment, we must work to defeat antisemitism along with anti-Black racism, xenophobia, and misogyny, as part of our collective project to build a truly inclusive multiracial democracy where we can all be safe. But it's going to take some work, together.
Moderator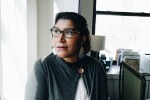 Ginna Green is a strategist, writer, movement-builder, consultant, and Partner and Chief Strategy Officer at Uprise, where she co-founded the Media Badass Masterclass. She is also the co-host of A Bintel Brief: The Jewish Advice Podcast from The Forward.
At Uprise, Ginna leads the practice on diversity + equity + inclusion and philanthropic advising within the Jewish community, and is a principal strategist for its progressive movement clients. She has worked as Chief Strategy Officer at Bend the Arc: Jewish Action, Managing Director of the Democracy Program at ReThink Media, in multiple roles at the Center for Responsible Lending, and at The OpEd Project, AlterNet and South Carolina Appleseed Legal Justice Center.
In addition to serving as president of the Women's March Win PAC and co-chair of the board at Bend the Arc, Ginna sits on the boards of Political Research Associates, the Jews of Color Initiative, the Jewish Social Justice Roundtable, and Jewish Story Partners. She is a proud South Carolina native, and the mother of four kids from college to second grade.
Other sessions: Inside the Growth of the Religious Left: a roundtable discussion
Panelists
Dove Kent, Senior Strategy Officer at Bend the Arc: A Jewish Partnership for Justice, has two decades of experience in grassroots organizing, political education, and movement building. As the executive director of Jews for Racial & Economic Justice from 2011 through 2016, Dove supported the organization to triple in size and win game-changing legislative victories for police accountability and workers rights through powerful local coalitions. Under Dove's tenure, JFREJ grew into one of the strongest and most effective progressive Jewish organizations in the country, creating significant culture shifts within the Jewish community, New York and nationally. She has been published in What We Do Now: Standing Up for Your Values in Trump's America (2017), Towards the "Other America": Anti-racist Resources for White People Taking Action for Black Lives Matter (2015), Understanding Antisemitism: An Offering To Our Movement (2017), and in the Guardian, Ha'aretz, Tikkun, and other media outlets. Dove trains nationally on antisemitism and racism, and is the co-founder of Tzedek Lab, a national network of Jewish political educators and organizers building collective competency to politicize, transform, and inspire the Jewish community into collective action against racism, antisemitism, and white supremacy. She lives in Durham, North Carolina.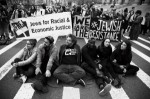 Dania Rajendra directs the American effort to reign in Amazon and is also adjunct faculty at CUNY's School of Labor and Urban Studies. A poet and essayist, Dania's writing showcases and fosters solidarity across many kinds of difference. Dania has worked in most corners of efforts for social change in the US and is a frequent speaker on racism, antisemitism, economic justice and the political right. Dania sits on the board of Jews for Racial and Economic Justice and on the advisory council of the Food Chain Workers Alliance, among others. But mostly she really, really likes to talk about Jell-O.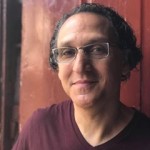 Tarso Luís Ramos is Executive Director of Political Research Associates, a Boston-based national organization that analyzes the U.S. Right Wing for social justice movements. Tarso has studied and fought the Right for over 25 years and is a sought-after speaker and strategist. While many were still dismissive Donald Trump's viability as a presidential candidate, PRA sounded the alarm. In a March 2016 interview with The Progressive, Ramos warned of a potential "mass base for Donald Trump's brand of bigoted nationalism," adding, "it's not clear that establishment neoliberal politics can trump it." Grounded in the social justice feminism of its late founder, Jean Hardisty, for 35 years PRA has collaborated with immigrant-, racial-, LGBTQ-, economic-, and gender-justice movements contending with a broad spectrum of the Right–from neofascists to free-market neoliberals. PRA is a leading source for movement analysis of the Christian Right, racial and ethnic nationalism, and other right-wing movements. PRA maintains a large, free, online archive at www.politicalresearch.org.