Fighting ALEC's Control of Lawmaking is a Fight Against Racism
Session Type(s): Panel
Starts: Thursday, Jul. 11 3:45 PM (Eastern)
Ends: Thursday, Jul. 11 4:45 PM (Eastern)
Visionary leadership has led to progressives taking decisive action against the years-long corporate, right-wing take over of government. In this effort there is no better focus than the American Legislative Exchange Council's (ALEC). This session will equip participants with a deep understanding of the racist dimensions of ALEC's legacy, and leave participants with practical ideas for how to leave Netroots with a plan to join the fight against ALEC.
Moderator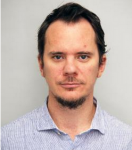 Dominic Renfrey is an Advocacy Program Manager at the Center for Constitutional Rights. Dominic focuses on the intersection of corporate abuses in various activity areas, including international human rights law, the Occupied Palestinian Territories, the operations of private military corporations, and the interference of corporations in the operations of state agencies and decision-making bodies. Dominic is a board member of the Project on Organizing, Development, Education and Research (PODER) in Mexico.
Before joining CCR, Dominic worked with the International Network for Economic, Social and Cultural Rights (ESCR-Net). He also worked alongside grassroots activist organizations in Australia and Asia providing advocacy support in national, international, and corporate-centered campaigns to seek accountability for corporate human rights abuses.
Panelists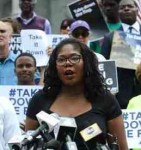 Brandi Collins-Dexter is the Senior Campaign Director at Color Of Change and oversees the media, democracy and economic justice departments. She has led a number of successful campaigns for accountability including getting Fox's The O'Reilly Factor taken off the air; getting R. Kelly dropped from RCA for his repeatedly abusing girls; winning Net neutrality protections; pressuring financial companies to pull funding from hate groups; and persuading Disney not to whitewash the features of their character Princess Tiana.
Brandi is a regular commentator in the media on racial justice. The Hill named her a 2017 "person to watch." She has written for The Root, The Hill and ESPN's The Undefeated, and has been featured on the BBC, and in the Guardian, Gizmodo and Pitchfork.
Other sessions: Racism and the Struggle for Digital Rights
Mary Ann Maestas is a chicana born and raised in Santa Fe, NM aka O'Gah Po'Geh.
She is a new member of The Red Nation, an Indigenous resistance organization and joined to be a part of a resistance movement that seeks justice for the people and mother earth without compromise.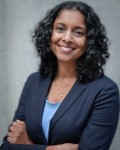 Radhika Sainath is a senior staff attorney at Palestine Legal, where she oversees the organization's groundbreaking legal work on free speech, censorship and the right to boycott.
Prior to joining Palestine Legal, Radhika litigated civil rights cases in Los Angeles, organized factory workers across the country with UNITE HERE!, and worked with the International Solidarity Movement (ISM), a Palestinian-led, nonviolent resistance movement, in the West Bank and Gaza Strip. In 2012, Radhika was arrested and deported from Bahrain while working with a human rights group there.
Radhika has appeared on MSNBC and in the New York Times, Wall Street Journal and the Washington Post discussing the movement for Palestinian rights. Her writing has appeared in Boston Review, Literary Hub, Jacobin, and The Nation and she co-edited a book on the ISM called Peace Under Fire (Verso: 2004).