Fighting ALEC's Control of Lawmaking is a Fight Against Racism
Session Type(s): Panel
Starts: Thursday, Jul. 11 3:45 PM
Ends: Thursday, Jul. 11 4:45 PM
Room: 119A
Visionary leadership has led to progressives taking decisive action against the years-long corporate, right-wing take over of government. In this effort there is no better focus than the American Legislative Exchange Council's (ALEC). This session will equip participants with a deep understanding of the racist dimensions of ALEC's legacy, and leave participants with practical ideas for how to leave Netroots with a plan to join the fight against ALEC.
Moderator
Panelists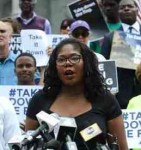 Brandi Collins-Dexter is the Senior Campaign Director at Color Of Change and oversees the media, democracy and economic justice departments. She has led a number of successful campaigns for accountability including getting Fox's The O'Reilly Factor taken off the air; getting R. Kelly dropped from RCA for his repeatedly abusing girls; winning Net neutrality protections; pressuring financial companies to pull funding from hate groups; and persuading Disney not to whitewash the features of their character Princess Tiana.
Brandi is a regular commentator in the media on racial justice. The Hill named her a 2017 "person to watch." She has written for The Root, The Hill and ESPN's The Undefeated, and has been featured on the BBC, and in the Guardian, Gizmodo and Pitchfork.
Other sessions: Racism and the Struggle for Digital Rights