Talking While Black: Is It Time To (De-)Desegregate the Black LGBTQ Community?
Session Type(s): Panel
Starts: Saturday, Aug. 12 1:30 PM (Eastern)
Ends: Saturday, Aug. 12 2:45 PM (Eastern)
Though the LGBTQ community claims to be one of inclusion and community spirit, the community seems to be on the same level as straight America when it comes to the daily micro and major aggressions committed on Black members of that very same community—all the while claiming "we are family." From the white male standards of beauty to using Black pain (HIV/AIDS) as a fundraising tool, the Black community is consistently disregarded and disrespected. But who's fault is that? Is it the white community who we have been disappointed by so very many times? Or is it ours for depending on them?
Moderator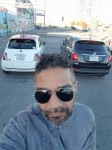 Derek Washington became an activist when he asked Robin McGehee during a radio interview, "Where are the Black people in the National Equality March?" She put him on the spot and said, "you're in charge of finding them, including them and while you're there, make sure all groups not traditionally included are included." I am Derek Washington and that one question led to my having 24 subcommittees and meeting many of the folks who have gone on to be LGBTQ leaders across the country today. I went on to become a central figure in the fight to repeal DADT and am known for "flipping" Nevada Senator, John Ensign, a staunch opponent on the subject to our side. I helped Senator Reid in his re-election efforts and went on to be the only Black ever to serve as Stonewall of Southern Nevada and Nevada State Stonewall. In addition to being the Nevada State Lead of Get EQUALNV I am the only Gay person to ever head a Black Democratic organization in Nevada, the Black Democratic Empowerment Project. I was honored to be chosen as one of the OUT 100 for 2016 and currently am experimenting with using various platforms such as Facebook LIVE to get the word our about current Black Thought through my online show, #TalkingWhileBlack.
Panelists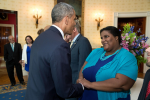 There were so many aspects to Faith Cheltenham's life and work––writer, activist, lecturer, poet, digital strategist, stand up comic, survivor ––that she developed a single unifying "theory of Faith." (It might be easier if you keep in mind Faith lives with hyperthymesia, or the inability to forget any of her own memories.) Then you too might be able to keep thefayth and settle into a future where gender and sexuality quite easily bend and every single Black life matters.
Faith got her start in LGBT advocacy as a Human Rights Campaign intern on the Gore 2000 campaign, and in 2002, she co-founded UCLA's BlaQue for LGBT/SGL students of African descent. In 2006, she appeared in the Emmy winning reality series on race in America, "Black. White." produced by Ice Cube.
After spending time working in corporate America doing digital strategy for Sarah Ferguson, the Duchess of York and co-creating and launching tor.com for Macmillan Books, she began to focus full-time on bisexual advocacy. In 2012, she was named one of The Advocate's "Forty Under 40" and was appointed to the University of California's LGBT Task Force. In 2013, Faith was the Co-organizer of the first Bisexual Community Issues Roundtable at the White House & in 2014, was honored to be a stage participant alongside President Obama as he signed the Executive Order protecting LGBT employees of federal contractors from discrimination.
Between 2015 and 2016, Faith co-organized four meetings with the Obama White House including the first livestreamed Bisexual Community Briefing at the White House in 2016. Every year, together with GLAAD, BiNet USA co-sponsors Bisexual Awareness Week (#biweek), a social media experience seen by millions that Faith co-created in 2014.
As a performer, panelist, or lecturer, Faith has spoken at locations as varied as San Diego Comic Con, New York Comic Con, Netroots Nation, Case Western University, UCLA & Yale University, on topics like intersectional feminism in culture, movies, and comics, histories of ancient African sexuality and bisexual intersectionality.
An award-winning journalist and writer who has had her spoken word poetry featured on Genius, Faith won her first writing acknowledgment from Parade Magazine at age fifteen for her musings on the racism she experienced as a Black Star Wars cosplaying kid in her native San Luis Obispo, California. Since then she's been acknowledged by GO Magazine and The National Association of LGBT Journalists as a Black bisexual journo-advocate.
Faith has been published widely in South Florida Gay News, Advocate, Huffington Post, Washington Blade, and her personal blog, thefayth.net. She has also been featured in various publications and outlets, including CNN's Headline News, LA Times, Think Progress, Bleeding Cool, The Daily Beast, and New York Magazine. Faith identifies herself as a "Black bisexual intersex queer woman of color who came up transracial." She's also the proud mom of a gender creative kid, Storm (age 6).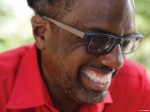 Khafre Kujichagulia Abif, MLS is an Atlanta-based AIDS & Bisexual activist, writer, editor, blogger and artist who has been thriving with HIV for 28 years.
After High School, Khafre enrolled at Florida Agricultural and Mechanical University (FAMU) where he obtained 90 credits. He returned to Pittsburgh to complete his Bachelor of Arts degree in Africana Studies from the University of Pittsburgh, and then earned a Master of Science degree in Library Science specializing in children and youth services, from the Graduate School of Information Sciences at the University of Pittsburgh.
Khafre now serves as a Community Organizer with the Southern AIDS Coalition, a Birmingham, Alabama based resource and advocacy organization. He will work on a campaign to connect HIV-positive folks in the South with Southern AIDS Coalition and other advocacy networks. "We must grow a broader coalition of people living with HIV and provide them with the tools to successfully advocate for policy change," Abif said in a press release announcing the appointment.
Khafre has been honored the be selected as HIV Plus magazine one of 75 Most Amazing People Living with HIV in 2016 and by POZ magazine as one of The 2015 POZ 100: Celebrating Long-Term Survivors. Khafre was among the Bisexuals at The White House in October 2015.
Khafre has been appointed as a member of the Georgia State Advisory Committee (SAC), to the United States Office of Civil Rights, representing the State of Georgia. His appointment, announced on June 1, 2016, was approved by the Commissioners of the United States Office of Civil Rights in Washington, D.C.
Khafre is also the Founder and Executive Director of Cycle for Freedom. This innovative project is a national mobilizing campaign founded in 2010 to reduce the spread of HIV among African Americans and Latino's by confronting the three critical issues that fuel the HIV pandemic: attacking HIV-related stigma, homophobia, and lack of education
Khafre is the former Director of the Langston Hughes Library, and worked for the Children's Defense Fund at the former Alex Haley Farm, in Clinton, Tennessee, where he planned developed, coordinated and facilitated, the Children's Defense Fund's Langston Hughes Children's Literature Festival, the Walter Dean Myers Institute for Publishing.
Khafre is one of the first men of color to serve as manager of children's services for a major urban public library system when he began as Manager of Children's Services, at the Brooklyn Public Library, in New York City where he implemented a Library Early Enrichment Program (LEEP), implemented a system-wide Volunteer Service program, and served as the Project Director for their Project Expedition website. Khafre has been involved in many other community projects including his service as Project Director of the Healthy Black Family Project at the University of Pittsburgh, and lots of work nationally with HIV/AIDS prevention and education efforts.
Khafre has several publications to his credit, Khafre is the editor of the anthology, "Cornbread, Fish and Collard Greens: Prayers, Poems & Affirmations for People Living with HIV/AIDS", a 2013 publication from AuthorHouse. Khafre has two forth-coming works this year, Sistah's Speak an anthology of (voices of HIV positive women) a collection of short fiction, poetry, creative nonfiction, personal narratives, critical essays and visual art from women living with HIV/AIDS and Raising Kazembe: A Memoir This collection of journal letter written by an HIV positive father to his son. It chronicles the lesson of life and education, the mental and emotional health of a father who deals with isolation, stigma, bisexual erasure, as well as how the traumas of his childhood play out in his parenting and his desire to heal.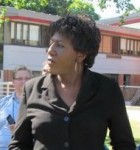 Monica Roberts, aka the TransGriot, is a native Houstonian and a trailblazing trans community leader who transitioned in 1994. She's a writer, award winning blogger, history buff, thinker, lecturer and IFGE Trinity Award winning advocate on trans human rights issues who works diligently at encouraging acceptance of and promoting awareness about trans people inside and outside the African-American community.
Monica's writings on trans issues from an Afrocentric perspective have been published at EBONY.com, Feministe, Racialicious, Womanist Musings, and What Tami Said
Other sessions: Keep Marching! How Connecting Locally Builds Power for Local and National Progressive Wins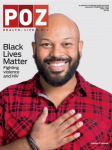 Ashton P. Woods is an Activist and native of New Orleans, LA that now resides Houston, TX. He began his life as an activist during his freshman year of high school and never stopped fighting for those who are the most marginalized. Ashton's willingness to fight comes from his thirst to selflessly create change and spread universal equality. Because he knows what being marginalized looks and feels like, Ashton openly identifies as Gay/SGL, Atheist, HIV positive & unapologetically Black. While none of these things completely define Ashton, they highlight intersectionality and teach that being Black is not a monolith. In Ashton's View justice must be intersectional and it is highlighted by his involvement in the Black Lives Matter Movement, SGL/LGBT rights, and equality for all when it comes to discrimination and overall fairness in society.