Keep Marching! How Connecting Locally Builds Power for Local and National Progressive Wins
Session Type(s): Panel
Starts: Thursday, Aug. 10 9:00 AM (Eastern)
Ends: Thursday, Aug. 10 10:15 AM (Eastern)
The Women's March was among many post-election on-the-ground actions reflecting our desire to gather in real life to express political power and will and to meet and support each other. People are ready to gather regularly and speak out. How do we sustain this positive energy? How do we organize locally to wield power at every level, from local to national? What does the current political climate mean for our local and national priorities like health care, paid sick days, mass incarceration, racial justice and more? Join us to discuss what it means to #keepmarching in a sustainable, healthy, intersectional and powerful way.
Moderator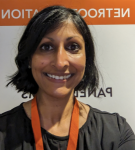 Netroots Nation board member; Lead UX Writer. "Our goal is to create a beloved community and this will require a qualitative change in our souls as well as a quantitative change in our lives."
~ Dr. Martin Luther King Jr.
Panelists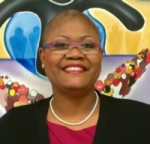 Melanie L. Campbell, president and CEO of the National Coalition on Black Civic Participation and convener of the Black Women's Roundtable Public Policy Network, has fought for civil, youth and women's rights for over 20 years. A veteran at leading, planning and managing highly successful multi-million dollar civic engagement, census, and issue-based campaigns, Campbell is recognized as one of the hardest working leaders in the social justice movement. Her leadership played a pivotal role in the 2012 election where Black people turned out at a higher rate than Whites and Black women surpassed everyone for the first time in history.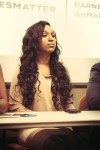 Elle Hearns is a organizer,speaker,strategist,and writer. Elle's voice as a community organizer and speaker were formed from her upbringing in Columbus, Ohio as a youth organizer. Ms. Elle is a co-founding member of the Black Lives Matter network an organization formed with multiple local chapters as a political project in the wake of the murder of Trayvon Martin in order to explicitly combat implicit bias and anti-black racism and to protect and affirm the beauty and dignity of all Black lives. In her role before stepping down she was formerly a strategic partner
​to​ BLM co-founders Patrisse Cullors, and Opal Tometi and to local chapters of the organization as the former interim Organizing Director advocating for Collaborative Solidarity across the network and Black Liberation movement. Elle has been honored with the Young Women's Achievement Award for Advocacy and Organizing by the Women's Information Network, the Black Feminist Human Rights Defender award by Black Women's Blueprint,and ​was named a Woke 100 honoree by Essence Magazine.
Ms. Elle currently is the Executive Director of The Marsha P. Johnson Institute an organization founded in 2015 that works to create a crucial entry point for Black transgender women to advocate for an end to violence against all trans people through advocacy, transformative organizing, restoration, civil disobedience and direct action. The organization is credited for organizing the first ever National Day of Action for Black Trans Women in response to the murders of Amber Monroe, Kandis Capri, and Elisha Walker and held organized events in multiple cities including New York City,Chicago, and Washington DC.
As a speaker Elle has delivered keynotes and talks at Harvard University, the Schomburg Center for Research in Black Culture,The Public Theatre,and for The National Lawyer's Guild,Columbia University, Stanford University and NYU.
Prior to founding The Marsha P. Johnson Institute Ms. Elle worked for LGBT organization GetEQUAL an organization that she shifted from an equality framework to one that was centered more on the liberation of LGBTQ people. During her time there she successfully led many campaigns including More Than Marriage a digital campaign detailing why LGBTQIA people needed more than marriage equality to be "free", Year Without Tamir a campaign honoring the life of Tamir Rice a 12 year old who was murdered by the Cleveland Police Department in which the campaign demanded and advocated for a new prosecutor for the case and in Cuyahoga County, and the firing of the officers and all responsible for his murder. Elle operates politically from the perspectives of black nationalism,humanist theory, and black trans theory and practice. She credits Malcolm X, Marcus Garvey, and Marsha P. Johnson as her teachers. Their words along with her life experiences are what she credits for politicising her.
Elle's writings have been published by The CUNY Law Review and Ebony magazine. Her
​ ​work has also been chronicled and featured by Time, CNN, MTV, The New York Times, Alternet, Democracy Now, The Daily Dot, Fusion, Essence Magazine,The Root, Alternet, Telesur TV and The Washington Post.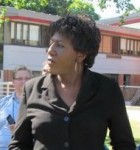 Monica Roberts, aka the TransGriot, is a native Houstonian and a trailblazing trans community leader who transitioned in 1994. She's a writer, award winning blogger, history buff, thinker, lecturer and IFGE Trinity Award winning advocate on trans human rights issues who works diligently at encouraging acceptance of and promoting awareness about trans people inside and outside the African-American community.
Monica's writings on trans issues from an Afrocentric perspective have been published at EBONY.com, Feministe, Racialicious, Womanist Musings, and What Tami Said
Other sessions: Talking While Black: Is It Time To (De-)Desegregate the Black LGBTQ Community?
Almas is the Deputy Director at the California Immigrant Policy Center, the state's leading immigrant rights organization. Almas's work focuses on the intersection of campaigns, litigation and policy implementation. This year, Almas helped lead CA's (nearly successful) campaign to expand Medi-Cal to undocumented adults and the successful fight to protect CA's sanctuary state bill. Almas lives in LA but calls Kansas home.
Other sessions: #Resist, Rebuild, Sustain: How Organizers and Technologists Must Collaborate in this Moment