SMS Outreach: What Works, What Doesn't, and What's a Waste of Your Time and Money
Session Type(s): Training
Training Tag(s): Advanced Digital Organizing
Starts: Thursday, Aug. 10 10:30 AM (Eastern)
Ends: Thursday, Aug. 10 11:15 AM (Eastern)
Room: Embassy C
The hottest new tactic of the 2016 election cycle was peer-to-peer texting. It's a powerful, scalable, and cost-effective organizing tactic that can complement both field and digital programs. But do you know how to run a program, what worked, what's hype, and what's possible? If you answered "no" to even one of those questions, you should attend this training. In 2016, Vote.org sent 6.3 million messages via peer-to-peer SMS, including just under 1 million on Election Day alone, making our program one of the largest in the country. We promise a lively session packed with the information you need to get your own program up and running.
This training is best suited for organizers and consultants who have a background in either digital or field organizing and are looking for opportunities to grow their audience, more deeply engage, and be more nimble and efficient.
Trainers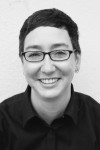 Debra Cleaver has been working at the intersection of technology and democracy since 2004. She is the founder of VoteAmerica, Vote.org, ElectionDay.org, Long Distance Voter, FutureVoter.com, and Ready Set Vote. She's an alum of both Y Combinator and Pomona College, a former DRK distinguished entrepreneur. She frequently speaks at relevant conferences nationwide, including SXSW, Harvard Law, the Harvard School of Government, University of Michigan, and the SUMMIT Ideas Festival. Debra's work has been featured in The New York Times, Washington Post, MSNBC, C-SPAN, WIRED, SOCAP, Bloomberg, BBC, Buzzfeed News, Forbes, and more.
Other sessions: Using SEO for Social Change, Profit and Fame!
Building out Hustle's Client Success team from the ground up. Our top-notch team has tripled in just six months! We manage the successful training, support and engagement with Hustle clients as they break records of response and conversation rates with 50+ million genuine conversations over text. Previously at Rainforest Action Network, Global Exchange, and Brigade.
Other sessions: Time to MOBILE-ize! Mobile Tools for Digital and On-the-Ground Action, Master Class: Hustle