From Demonstration to Legislation: How Organizing Will Win Back Progressive Power
Session Type(s): Panel
Starts: Friday, Aug. 11 2:30 PM (Eastern)
Ends: Friday, Aug. 11 3:45 PM (Eastern)

Progressives lost because we failed to motivate enough people to show up to the ballot box. We will win back power when we empower the grassroots and fight for the issues that improve people's lives. We must energize progressives across the country to focus on winning at the state level in particular, where we have lost 1,000 elections since 2008, and at the local level where policy innovation is happening every day. To do this, we must root our politics in grassroots organizing, and show the resistance movement that politics has answers for them to build power.
Moderator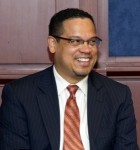 Currently serving as Minnesota's 30th Attorney General, Keith Ellison is the first African American and first Muslim American to be elected to statewide office in Minnesota. Before becoming AG, Ellison represented Minnesota's 5th District in Congress where he focused on consumer, worker, environmental, civil- and human-rights protections for Minnesotans. As Minnesota's AG, Ellison has championed affordable health care, a fair economy, and equal opportunity for all. Ellison has opposed a new rule revoking legal status for immigrants accessing public assistance, created a unit within the office of the Attorney General that focuses on investigating and prosecuting abuse of workers and wage theft, as well as filing lawsuits against opioid manufacturers. Following the killing of George Floyd, Governor Walz appointed AG Ellison to prosecute the case.
Other sessions: Trumped Up Trade: Retaking the Working Class on Trade and the Economy, Running from Trump, Running for the People, Millions of Jobs: How Progressives are Taking Back the Populist Narrative and Going On Offense on Infrastructure, Friday Morning Plenary
Panelists
Sarah is co-director of Local Progress, the national network for progressive local elected officials. Local Progress counts over 600 local elected members across the country committed to strong economies, equal justice under the law, sustainable and livable cities, and effective government.
Prior to joining CPD, Sarah served as the Managing Director at Working Families where she also ran an electoral and candidate recruitment program that doubled the size of the New York City Progressive Caucus. Sarah got her start as a political organizer for SEIU 32BJ. Sarah is a graduate of Williams College and Pratt Institute, where she received a Masters in Urban Planning.
Edith Sargon is Wellstone's Executive Director, and assumed this role on May 1st. Prior to becoming ED, Edith was the Director of Impact for Wellstone, where she guided the strategic direction for our program team and led our crew of political leadership, movement building, and movement technology practitioners to win progressive change across the country, the Wellstone Way. Edith also directs the Sheila Wellstone Institute, which continues Wellstone's commitment to building power and engaging broad community support to ensure that ending violence against women and children is a national priority.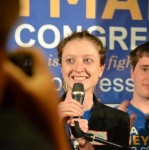 As the Electoral Director for Democracy for America, the million-member grassroots organization founded in 2004 by former DNC Chairman, Governor Howard Dean, Annie leads a team dedicated to electing strong progressives in critical races nationwide. She comes to DFA with over a decade of experience in organizing, campaigning and issue advocacy – as Chief of Staff for the advocacy foundation of the Congressional Progressive Caucus; as the Campaign Manager for Ilya Sheyman's top-tier 2012 Illinois Congressional run; and in a host of leadership roles at MoveOn.org, where she most recently spearheaded a new initiative to recruit talented leaders to run for office. As former National Organizer for Food and Water Watch, she built a fellowship program dedicated to fighting water privatization. She's a graduate of Green Corps, the Field School for Environmental Organizing, and Sarah Lawrence College, where she studied Dance and Environmental Policy.