Can Latino Men be Organized to Fight Back?
Session Type(s): Panel
Starts: Saturday, Aug. 12 1:30 PM (Eastern)
Ends: Saturday, Aug. 12 2:45 PM (Eastern)
The 2016 election had a few bright spots, but for the most part, Democrats failed to turn out enough of its base. One of the key constituencies that demands further exploration—and one that will be critical for future Democratic electoral success—is Latinos; what is noticeable is how differently Latino men voted compared to Latinas. There was a 13-point gender gap between Latino men and women. As Republicans continue to count on a shrinking Anglo vote, progressives cannot allow Latino men to drift further to the middle. This panel explores what can be done to cement Latino men as the part of the progressive base.
Moderator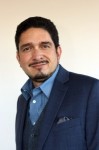 Joshua Estevan Ulibarri is a partner at Lake Research Partners. His issue work covers the progressive spectrum. Known as a leading researcher among his generation of consultants, he is among the best methodologists and moderators in the field and a sought-after Latino voice in progressive politics. He was named AAPC's 2018 Pollster of the Year, making him the first Latino recipient. Since 2015 he and his team have been the pollsters of record for the VA House Democratic Caucus, and in 2019 the caucus won their first majority in two generations. In 2019 he also polled for Phoenix Mayor Kate Gallego and the IE for Tucson Mayor Regina Romero.
In 2018, he worked with the DCCC IE, resulting in two major victories. The first was successfully defending who The Cook Political Report's David Wasserman named "the most vulnerable House Dem" this midterm cycle, Representative Tom O'Halleran in Arizona's 1st Congressional District. The second was Xochitl Torres Small's impressive win in New Mexico's 2nd Congressional, where her victory flipped the seat from red to blue. He also worked with the DGA in the election of progressive Latina Governor Michelle Lujan Grisham of New Mexico and for Laura Kelly in Kansas.
Other sessions: Stemming Drop-off and Roll-off: How to Ensure Key Voters Vote in 2017-2018, Pivoting Left: How We Win by Standing Up for Working Families and Embracing Progressive Values
Panelists
Leticia Martinez is a nationally recognized expert in community organizing who brings to Mission Control her vast experience in designing and implementing strategic mail, field, digital and overall campaign plans. During her nearly 20 years of political experience, she has traveled to over 30 states to work on local, state, and federal candidate campaigns, as well as a variety of issue campaigns.
Most recently, in 2016, Leticia served as the general consultant to the successful campaign committee that raised Colorado's minimum wage. Previous to the minimum wage campaign, Leticia served as the Western Regional Field Director for the Planned Parenthood Federation of America. In 2012, she was the Deputy National Political Director for America Votes, where she coordinated political programs with over 40 national partner organizations. In 2010, she co-created and ran Colorado's first-ever ballot measure table – coalition of over45 environmental, women's health and labor organizations. Leticia built the coalition from the ground up – raising the funds necessary to execute a winning campaign plan. The coalition successfully defeated five ballot measures that, combined, threatened Colorado's economy, women's health, and the Affordable Care Act
During the 2008 cycle, Leticia served as the National Field Director for SEIU's presidential campaign program, where she created and implemented strategic field plans in presidential battleground states. She also managed the 2006 Citizens for Colorado campaign, winning 26 of its 29 targeted state legislative races, and served as the Legislative Director for the SEIU Colorado State Council.
Leticia is a sixth-generation Coloradoan and the granddaughter of both a steelworker and a bricklayer. She lives in Denver with her husband and son. Leticia graduated from Smith College and received her Juris Doctorate from the University of Denver, Sturm College of Law.
Paul Rivera is a Democratic activist and strategist from New York, with more than 20 years of experience in government, elections, and public advocacy. Paul got his start in politics at the 1992 Democratic Convention held in New York City, and served in the Clinton White House from 1994 through 2000, before moving back to New York.
Paul is a veteran of four presidential elections (1992-2004), six national party conventions, two gubernatorial elections in New York (2002 and 2006), and five election cycles for the New York State Senate Democratic Conference (2008-2016).
Paul also served as Communications Director and Senior Advisor to the New York Senate Democratic Conference from 2009-2012, helping close record budget deficits and working to pass critical reform and progressive legislation.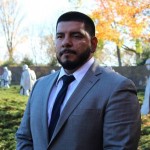 Tomas E. Robles Jr. currently serves as Executive Director of Living United for Change in Arizona (LUCHA). A member-driven organization that has played a key role the recent movement in Arizona to bring attention to wage inequality and worker rights through various campaigns in the past few years. Tomas became involved in grassroots organizing and activism after Senate Bill 1070, an anti-immigration bill that would have led to racial-profiling in Arizona, passed. Since then, Tomas has worked with various organizations working various issues such as immigrant and worker rights, Veteran's issues and housing discrimination.
Tomas is the son of Mexican immigrants, born in Tucson, AZ, and raised in Phoenix, Arizona. He is a veteran of the United States Marine Corps and is a graduate of Arizona State University with a Bachelor of Arts in Transborder studies with an emphasis on immigration policy and economy.