Progressives and the Midterms: Making Smart Investments to Build Progressive Power in 2014 and Beyond
Session Type(s): Panel
Starts: Thursday, Jul. 17 9:00 AM (Eastern)
Ends: Thursday, Jul. 17 10:15 AM (Eastern)
What are the smartest plays that progressives can make in the upcoming mid-term elections? What are they key issues that progressives should be talking about? Join us for a lively discussion on building progressive power on Election Day and beyond.
Moderator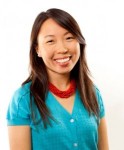 Amanda Terkel is a Senior Political Reporter and Politics Managing Editor at The Huffington Post. Previously, Amanda served as Deputy Research Director at the Center for American Progress and the Managing Editor of ThinkProgress.org.
Other sessions: A Labor of Love: How the American Labor Movement is Securing LGBT Equality
Panelists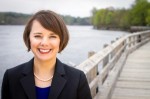 Secretary of State Shenna Bellows is Maine's 50th Secretary of State, sworn into her first two-year term in the position on Jan. 4, 2021. Secretary Bellows is Maine's first female Secretary of State.

Secretary Bellows previously served two terms in the Maine Senate from 2016-2020, representing 11 towns in southern Kennebec County. In the Maine Senate, she served as Senate Chair of the Labor and Housing Committee and served on the Judiciary Committee. She was a 2020 presidential elector in the Electoral College. 

Secretary Bellows most recently led the Holocaust and Human Rights Center of Maine as executive director from 2018 to 2020. Previously, she owned Bellows & Company, a non-profit consulting business, where she worked with organizations such as the Sierra Club's Maine Chapter, Consumers for Affordable Healthcare and the Maine Women's Lobby. She also served as interim executive director of LearningWorks. In 2014, Secretary Bellows was the Democratic nominee for United States Senate in Maine. 

Currently, Secretary Bellows is serving on the National Association of Secretaries of State (NASS) Elections Committee, Business Services Committee, Cybersecurity Committee, Awards Committee and International Relations Committee.

Secretary Bellows grew up in Hancock and is a graduate of Ellsworth High School. She holds a B.A. in International Politics and Economics from Middlebury College. She volunteered with the Peace Corps in Panama and AmeriCorps VISTA in Nashville, Tennessee. Secretary Bellows lives with her husband, Brandon, in Manchester, where she serves on the Manchester Conservation Commission.
Other sessions: Money in Politics: Candidate Forum, Marijuana Arrests: The Gateway to Mass Incarceration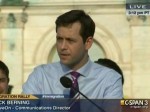 Nick Berning is communications director at MoveOn.org, a community of millions of Americans from all walks of life working together to run and and win powerful campaigns for progressive change. Nick leads MoveOn's media relations work, social media presence, message strategy, and advertising, and contributes to broader campaign strategy. He previously directed communications at Friends of the Earth, was a member of the communications team People For the American Way, and has served as a spokesperson on congressional and presidential campaigns.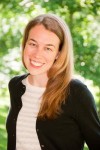 Stephanie Taylor, Co-Founder of the Progressive Change Campaign Committee (PCCC) has spent the last 15 years working on labor, electoral and advocacy campaigns throughout the country. She is a former union organizer and a pioneer in the area of scalable field, using technology and field to achieve results. She has a B.A. from the University of Virginia and an MFA from Columbia, and is a PhD candidate in American history at Georgetown. Her campaigns have been covered widely, and her political commentary has appeared in Salon, The Nation, Huffington Post, and elsewhere. Follow her on Twitter @StephanieTaylor.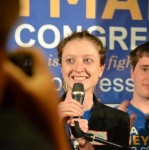 As the Electoral Director for Democracy for America, the million-member grassroots organization founded in 2004 by former DNC Chairman, Governor Howard Dean, Annie leads a team dedicated to electing strong progressives in critical races nationwide. She comes to DFA with over a decade of experience in organizing, campaigning and issue advocacy – as Chief of Staff for the advocacy foundation of the Congressional Progressive Caucus; as the Campaign Manager for Ilya Sheyman's top-tier 2012 Illinois Congressional run; and in a host of leadership roles at MoveOn.org, where she most recently spearheaded a new initiative to recruit talented leaders to run for office. As former National Organizer for Food and Water Watch, she built a fellowship program dedicated to fighting water privatization. She's a graduate of Green Corps, the Field School for Environmental Organizing, and Sarah Lawrence College, where she studied Dance and Environmental Policy.