Marijuana Arrests: The Gateway to Mass Incarceration
Session Type(s): Panel
Starts: Friday, Jul. 18 4:30 PM (Eastern)
Ends: Friday, Jul. 18 5:45 PM (Eastern)
Room: 140 F
Every 48 seconds someone is arrested for marijuana possession in the United States. Most of these arrests are of people of color, despite the fact that white people use and sell marijuana at higher rates. In this panel we will explore how the drug war and biased policing practices fuel marijuana arrests and, in turn, mass incarceration. We will discuss how in New York City, the Marijuana Arrest Capital of the World, communities are organizing to end marijuana arrests and reverse the collateral consequences haunting the nearly half a million New Yorkers now living with criminal records. We approach our work from an explicit racial justice perspective—and will share how we insert ourselves into the white-male-dominated marijuana reform world—to message our campaign, build leadership of directly impacted communities, and pass innovative policies and laws to end racist marijuana arrests in New York.
Moderator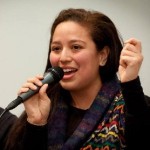 Alyssa Aguilera is the Political Director of VOCAL-NY, a grassroots organization that builds political power among low-income people impacted by HIV/AIDS, the drug war, and mass incarceration.
She previously worked as the community organizer for the Health Justice program at New York Lawyers for the Public Interest building campaigns and advocating for health policy rooted in racial justice. She has also worked for the Boston Workers Alliance and with the Justice for Janitors campaign at SEIU in Houston, TX.
She serves on the Board of Directors for Brooklyn Perinatal Network and Communities United for Police Reform Action Fund. She was selected for the Coro Immigrant Civic Leadership Program in 2010 and the Fellowship for Emerging Leaders in Public Service at NYU's Robert F. Wagner Graduate School of Public Service in 2012. Alyssa holds a B.A. from Harvard College.
Panelists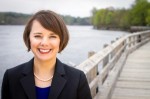 Shenna Bellows is the Democratic candidate for U.S. Senate in Maine running against 18-year incumbent Republican Susan Collins. Shenna is best known for her tenure as Executive Director of the American Civil Liberties Union of Maine. The Progressive Change Campaign Committee has called her "the Elizabeth Warren of civil liberties."
Shenna has a long track record of building innovative left-right coalitions to pass groundbreaking civil rights laws. She was a leader of the 2012 Mainers United for Marriage campaign, which was one of the country's first successful marriage equality ballot initiatives. She and her husband married in 2013, having waited until same-sex Maine couples could do the same.
When Maine Republicans worked to strip voting rights, Shenna co-chaired the successful 2011 Protect Maine Votes campaign to restore same-day voter registration. Shenna has been a vocal supporter of legalizing marijuana use and raising the minimum wage to $10.10 an hour.
Other sessions: Progressives and the Midterms: Making Smart Investments to Build Progressive Power in 2014 and Beyond, Money in Politics: Candidate Forum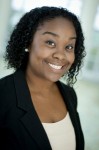 Kassandra Frederique is a New York policy coordinator at the Drug Policy Alliance. Frederique works to build powerful coalitions in communities devastated by drug misuse and the war on drugs. Her passion for challenging social oppression and inequalities led her to work on ending the drug war.
Frederique is currently organizing with groups around New York state to address bias policing practices, unlawful marijuana arrests, and collateral consequences of criminalization.
Frederique holds a Master of Science in Social Work (MSSW) from Columbia University School of Social Work and a B.S. from Cornell University.