Organizing the South: The Times They Are a-Changing
Session Type(s): Panel
Starts: Thursday, Jul. 17 9:00 AM (Eastern)
Ends: Thursday, Jul. 17 10:15 AM (Eastern)
How can progressives continue to transform the social and political landscape of the South? By making sure workers have a voice on the job, electing representatives who care about poverty and women's rights, and ultimately, organizing the working class into a broad, diverse movement for economic and social justice. From Moral Mondays and Fast Food strikes to Volkswagon auto workers in Chattanooga seeking a voice on the job, exciting things are happening in the South.
Moderator
Born and raised in Birmingham Alabama, Darius grew up in a union household – very unusual for the south. With a passion for improving the living conditions of undeserved communities, Darius attended Alabama A&M University, a historically black university (HBCU) where he received his B.A in Political Science and Criminal Justice. After working on various political campaigns in Alabama Darius joined the AFl-CIO organizer training institute where he was hired by SEIU as an organizer; which lead to him organizing nursing homes, public sector, and cafeteria workers in the south. After a serving in the Peace Corp, attending Graduate school in England, and organizing with Equality California, Darius became the Southern Regional Director for Working America.
Panelists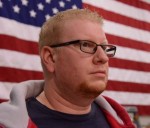 Will Branch, 38 years old, has been a skilled maintenance worker in the Assembly area of Volkswagen's Chattanooga plant for nearly four years. Prior to Volkswagen, he worked at other manufacturing facilities. Will, an active leader in the UAW Volkswagen organizing campaign, joined the Volkswagen Leadership Council and now is involved in organizing UAW Local 42, the new local union for Volkswagen workers. He spent the majority of his life in the South. He was born in California, but moved to the Chattanooga area at age 14.
Will was somewhat opposed to unions in the past and considered himself politically moderate to conservative. When workers started organizing at Volkswagen, he gained an interest and began to seek information about their motives as well as those of the UAW and Volkswagen. It took him little time to make his decision, and his support for the union has only grown stronger.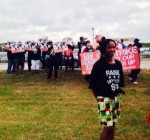 Cherri Delesline works at McDonald's in Charleston, SC. She is the mother of four daughters. Cherri is a born leader and has played a big role in organizing her fellow fast food workers throughout the South. Whether it be confronting her employer at their cooperate front door or holding a strike at her store, Cherri is always ready to lead the way to $15 and a union.
MaryBe McMillan is Secretary-Treasurer of the NC State AFL-CIO. With her election to this position in 2005, she became the first female officer in the history of the organization.
Prior to working for the NC State AFL-CIO, she worked for the AFL-CIO's Union Community Fund, as Research Director for the Common Sense Foundation, a think tank focused on NC policy issues, and as State Policy Analyst for the Rural School & Community Trust, an organization that promotes rural public education.
MaryBe grew up in Hickory, NC. She became involved with union organizing as a student and is now a leading advocate for the importance of organizing the South.
MaryBe graduated from Wake Forest University with a BA in sociology. She also holds a MA from UNC-Greensboro and a Ph.D. in sociology from NC State University. MaryBe is a member of IUOE Local 465 in Durham, NC.