Headline Risk and Social Cost: Hitting the 1% Where it Hurts
Session Type(s): Panel
Starts: Saturday, Jul. 19 3:00 PM (Eastern)
Ends: Saturday, Jul. 19 4:15 PM (Eastern)
Headline risk remains one of the largest realms where progressives can force change on the masters of the universe. This session will examine the assets society has against the 1%, and how we can create a true social cost to both the 1% and their enablers. We will also examine what it looks like when that leverage is brought to bear—beyond simply targeting election cycles.
Moderator
Alexis Goldstein is the Senior Policy Analyst at Americans for Financial Reform, a nonpartisan coalition of over 200 organizations working for a safe and ethical financial system. Prior to her advocacy work, Alexis spent seven years working on Wall Street.
In her spare time, she co-hosts the podcast Humorless Queers, which covers Wall Street, Mass Surveillance, and LGBTQ issues.
Panelists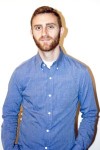 Max Berger is an organizer with the Occupy movement. He worked as as a GOTV organizer in 2004, as an online organizer for Howard Dean's Presidential campaign in 2003, and has also worked with the Progressive Change Campaign Committee, J Street and Rebuild the Dream. He attended Reed College in Portland, Oregon, but had to leave Portland after school because he wasn't ready to retire. He currently lives in Brooklyn.
Nelini Stamp is the National Organizing Director at the Working Families Party. She works with volunteer leaders across the country to build local progressive infrastructure. Nelini joined the New York Working Families Party staff in 2008; door knocking and field organizing for a variety of electoral campaigns across New York State. Since then, she has been deeply involved in social movement work around economic and racial justice across the country. She worked on the ground at Occupy Wall Street to help bridge the gap between labor, community- based organizations and Occupy activists. Afterward, Nelini co-created the Freedom Side and co-founded Dream Defenders in Florida, which organizes and trains youth in non-violent civil disobedience, civic engagement, and direct action. Lately, as a co-builder of WFP's Resist Here project, which launched #ResistTrumpTuesdays, she has been chasing Senator Schumer around to make sure he stands up to Trump. You can often find her leading marches, rallies and mic-checking at direct actions.
Other sessions: Student Debt Caucus, Student Debt and Wall Street: How Finance is Taking a Growing Share of Higher Education Spending and What We Can Do About It, From Underdog to Top Dog: Organizing for Impact While Small and Mighty