So You Want to Be a Pundit? Women Progressives on the Keys to Success
Session Type(s): Panel
Starts: Saturday, Jun. 22 1:30 PM (Pacific)
Ends: Saturday, Jun. 22 2:45 PM (Pacific)
Room: 210 DH
Progressive women's voices in world of political commentary and punditry are few. Yes, there are some high-profile exceptions, but research shows that only about 20 percent of political "talking heads" are women, and women comprise only 17 percent of op-ed writers for major newspapers. This panel will explore the various avenues for progressive women to grow their political presence in the media to promote a progressive agenda. The panelists will offer expert advice and practical tips on developing contacts to secure media appearances.


Moderator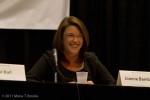 Joanne Bamberger, author, journalist, political/media strategist & recovering attorney, is the author of Mothers of Intention: How Women & Social Media are Revolutionizing Politics in America. She is the publisher of The Broad Side, a digital magazine of women's commentary. A new media expert & authority on women's political involvement, Joanne has written for AOL's Politics Daily, CNN.com, USA Today, the Washington Post, & more. Her commentary has appeared on CNN, MSNBC, Fox News, Good Morning America, among others. Joanne was awarded the 2013 Campaign Tech Advocacy Innovator award for her research/writing on the direct & indirect affect women in non-political online venues have on political & policy discussion. In 2011, she was one of Working Mother Magazine's Most Powerful Women in Social Media & was nominated for the Women's Media Center Social Media Award. As a consultant, she works with various organizations to connect them women online influencers.
Panelists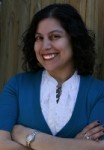 Veronica I. Arreola is an accomplished blogger, women's rights activist and mother. Her blog, Viva la Feminista, has been named a top political blog by Blogher, Type-A-Mom and Latinos in Social Media (LATISM). Veronica's work on behalf of women and girls has been recognized by her coworkers with a UIC Woman of the Year award, the community with a Chicago Foundation for Women Impact Award and the White House with an organizational Presidential Award for Excellence in Science, Mathematics and Engineering Mentoring. Media appearances include WGN-TV News, NBC Nighty News, Chicago Tribune and CBS 2 Chicago. Her writing has appeared in Bitch magazine, Ms. magazine and NPR.org. A life-long Chicagoan, Veronica believes that the Cubs will win the World Series in her lifetime and a woman will be elected President.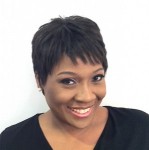 Fox News contributor Jehmu Greene is an evangelist for disenfranchised and vulnerable communities. Her commentary has been featured on The Daily Show, all major news networks, and in The New York Times, Washington Post, USA Today, Los Angeles Times, Rolling Stone and Essence Magazine. Together with Jose Antonio Vargas, Alicia Menendez, and Jake Brewer, Jehmu co-founded Define American to elevate the immigration conversation. She is a former President of the Women's Media Center and served as an advisor and national surrogate for Hillary Clinton's presidential campaign. She prays every night Secretary Clinton will run again. Jehmu also previously served as President of Rock the Vote. Under her leadership, young voter turnout increased by 11%, the largest increase ever recorded. She consults campaigns, non-profits, and corporations on media strategy, but on many days would rather be singing country music from a stage in Nashville…a dream deferred.
Other sessions: Not Another Newtown: Building a Movement to Prevent Gun Violence
Saru Jayaraman is Co-Director of the Restaurant Opportunities Centers United (ROC-United) and Director of the Food Labor Research Center at University of California, Berkeley. Initiated after 9/11, ROC has grown into a national restaurant workers' organization with 10,000 members in 30 cities, 100 employer partners, more than two dozen published reports, more than a dozen campaign victories, and two cooperatively-owned restaurants. The story of ROC's work has been chronicled in the book The Accidental American. Saru is a graduate of Yale Law School and the Harvard Kennedy School of Government. She was profiled in the New York Times "Public Lives" section, and as one of Crain's "40 Under 40", and one of New York Magazine's "Influentials" of New York. She authored Behind the Kitchen Door, (Cornell, 2013), a national bestseller, and has appeared on CNN, Bill Moyers Journal on PBS, MSNBC, and Real Time with Bill Maher on HBO.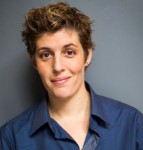 Sally Kohn is one of the leading progressive voices in America. She is currently a CNN contributor and columnist for the Daily Beast. Sally was previously a Fox News contributor, the motivation for her widely-seen TED talk, as well as a regular guest on MSNBC. Sally's writing has appeared in the Washington Post, New York Magazine, More Magazine, Reuters, USA Today, Salon, Politico, Time and many other outlets. Her work has been highlighted by outlets from the New York Times to the Colbert Report to the National Review, and Sally is ranked by Mediaite as one of the top 100 most influential television pundits in America.
Sally also works as a communications consultant, providing media and public speaking coaching as well as ghostwriting services to key leaders in nonprofits and corporations.