#Resist, Rebuild, Sustain: How Organizers and Technologists Must Collaborate in this Moment
Session Type(s): Panel
Starts: Thursday, Aug. 10 1:00 PM
Ends: Thursday, Aug. 10 2:15 PM
Room: Regency V
With so many activists sparked by the November election, many are confronted with how best to sustain this moment. In this panel, we'll share the story of an innovative collaboration between digital strategists and activists. After Trump's Muslim ban, Meetup launched a network of 1,000 local #Resist groups. Quickly, the network of #Resist Meetups had more than 100,000 members participating in civic action all over the country. To sustain the momentum, Meetup teamed up with The Domestic Worker Legacy Fund, dedicated to elevating communities of color, to house a "Deep Democracy Lab" to provide vision to sustain this grassroots momentum. This panel will examine the ways organizers, digital strategists, and technologists must collaborate in this political moment.
Moderator
Almas Sayeed is General Counsel and Policy Advisor at the National Domestic Workers Alliance (NDWA) and directs the electoral work of Care in Action, NDWA's sister organization. Before joining NDWA, Almas served as a slum housing litigator, representing low-income tenants in Los Angeles. She represented two families from the Sudan in the aftermath of the White's House's Muslim Ban. Almas is deeply committed to the critical intersection of organizing and lawyering often referred to as "movement lawyering."
Panelists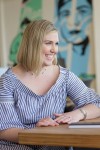 Kristin Hodgson is a marketing and communications leader with extensive experience in branding, campaign development, and partnerships. In her role at Meetup, Kristin evangelizes Meetup's mission of bringing people together and champions the Meetup community through storytelling. After President Trump's first travel ban, she cofounded a network of 1,000+ #Resist groups on Meetup.
Prior to Meetup, Kristin was the Senior Managing Director, Digital at Teach For America. She led TFA's web team, defined the vision and product roadmap for teachforamerica.org, and created compelling content to engage audiences in marketing campaigns.
She lives in Hastings-on-Hudson, NY, with her husband, daughter, and her beloved Frenchie, Bogart.