Lizz Free or Die
Session Type(s): Special Event
Starts: Saturday, Jun. 9 1:30 PM
Ends: Saturday, Jun. 9 2:30 PM
Room: Exhibit Hall Sponsored Stage
Political satirist Lizz Winstead will be doing a reading from her new book "Lizz Free Or Die" It is a personal tale of a uoung wan finding her voice and how that voice lead her into Stand-Up comedy, activism, creating The Daily Show and Air America Radio. She will be joined in a conversation and Q/A with former CEO and Air America Founder Jon Sinton. Books will be available for purchase and signing.
Moderator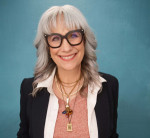 As co-creator and former head writer of The Daily Show and co-founder of Air America Radio, Lizz Winstead has helped changed the way people get their news.
As a performer, Lizz brought her political wit to The Daily Show as a correspondent and later to the radio waves co-hosting Unfiltered, Air America Radio's mid-morning show, with Chuck D and Rachel Maddow.
Known as as one of the top political satirists in America, Winstead is currently touring the country, bringing her razor sharp insights to the stage selling out shows from LA to NYC.
When Lizz is not on stage, she writes for The Guardian, The Huffington Post, at her website lizzwinstead.com and is a regular on MSNBC giving her spin on breaking news.
Her first book, Lizz Free Or Die, was released by Riverhead Books May 10th 2012.
Other sessions: Morning News Dump with Lizz Winstead, Shannyn Moore and Cliff Schecter, Morning News Dump with Lizz Winstead, Shannyn Moore and Cliff Schecter, Morning News Dump with Lizz Winstead, Shannyn Moore and Cliff Schecter, Laughing Liberally, Comedy for Activists: Using satire, pranks and creative video for troublemaking