How Illinois Ended Money Bail
Session Type(s): Panel
Starts: Saturday, Jul. 15 2:30 PM (Central)
Ends: Saturday, Jul. 15 3:30 PM (Central)
Room: Salon C-3/4
The Pretrial Fairness Act was signed into law to end wealth-based jailing and reduce pretrial incarceration in Illinois. The implementation of the law will make Illinois the first state in the U.S. to completely eliminate money bail. Since the law's passage in January 2021, it has been subjected to numerous attempts to undermine its success and preserve policies of mass incarceration. Organizers, policy experts, and elected officials will share how Illinois built a statewide movement to secure this historic reform and the lessons learned from successfully beating back a multi-million dollar right-wing misinformation campaign.
Moderator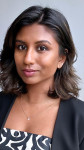 Aditi Singh directs Alliance for Safety and Justice's justice reform and public safety statewide campaigns in Illinois. She has worked on education, housing, voting rights/civic engagement, healthcare, juvenile justice and criminal justice issues at the Chicago Lawyers' Committee for Civil Rights, Chicago Appleseed, and AIDS Foundation of Chicago. Her time in government includes serving as Governor Pritzker's criminal justice policy advisor where she coordinated public safety agency legislative and policy proposals and helped develop the Administration's criminal justice platform. She graduated with her Bachelors in World Literature in 2012 and her J.D. in 2015 from the University of Illinois Urbana-Champaign.
Panelists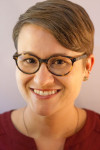 Sharlyn Grace (she/her) is the Senior Policy Advisor at the Law Office of the Cook County Public Defender. Prior her current role, Sharlyn was a founding member of Chicago Community Bond Fund and served as CCBF's first Executive Director until early 2021. Before joining CCBF full-time, she was the Senior Criminal Justice Policy Analyst at Chicago Appleseed. In those roles, Sharlyn was part of launching and helping lead the Coalition to End Money Bond in 2016 and the Illinois Network for Pretrial Justice in 2019. In 2021, their joint statewide legislative campaign culminated in the passage of the Pretrial Fairness Act, which will make Illinois the first state to completely eliminate money bail. Outside of work, Sharlyn has provided legal and organizing support for grassroots movements in Chicago since 2012. She is a graduate of Northeastern University School of Law and an Illinois licensed attorney.

Senator Robert Peters was born in 1985 deaf and with a massive speech impediment. His biological mother was addicted to drugs and alcohol, and his adopted mother and father were a social worker and a civil rights lawyer. He saw first hand the impact and devastation of the racist war on drugs. As he grew up, he admired the work his father did as a civil rights and criminal defense attorney, challenging wrongdoing by the police. This combined with the effect of the criminalization of addiction, inspired his work on criminal justice reform rooted in the safety, freedom, and wellness of all people. A defining moment for Peters was the Great Recession, as he struggled to find work and lost his parents within a year and a half of each other. He found his power through political organizing in solidarity with a variety of organizations in Chicago fighting for justice.
As a state senator, Peters has championed the end of cash bail in Illinois after years of organizing around it before becoming a Senator. He just passed legislation that expanded worker protections for Black and Latino workers in temporary employment. He has championed investments in tourism, small business development, and education. This legislative session alone, Peters has passed 17 bills, as he continues to push Illinois forward as a leader in criminal justice reform and true public safety for all. He chairs the Labor Committee in the Senate and is Chair of the Senate Black Caucus. He is focused on environmental justice, racial justice, economic freedom, and public safety for all.
Other sessions: U.S. Foreign Policy, The Pentagon Budget, and Militarized Police in America, Opening Keynote featuring Mayor Brandon Johnson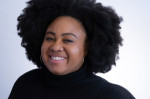 Tanya Watkins (she/her) is a mother, writer, Black womanist, community organizer, and prison abolitionist originally from Chicago's South Side. She studied writing at Columbia College Chicago and is a former South Suburban Chicago elected official. Tanya began as a leader with Southisiders Organized for Unity and Liberation (SOUL) in 2010, a multi-issue, faith-based, social justice organization that helps residents power in the Chicago Southland. Since being with the organization, Tanya has led numerous campaigns to re-imagine community safety and transform the justice system in Cook County, most recently leading SOUL as an anchor organization in the movement to end cash bail in Illinois. In 2023, after the election of Chicago Mayor Brandon Johnson, Tanya was asked to serve as the Co-Chair of the Public Safety Transition Sub-Committee. Currently, Tanya is the Executive Director of both SOUL and SOUL in Action and on the Executive Board of the BlackRoots Alliance.