How to End the Legacy of Economic Slavery: Close the Gender, Race and LGBTQ+ Pay Gap
Session Type(s): Panel
Starts: Friday, Jul. 14 1:30 PM (Central)
Ends: Friday, Jul. 14 2:30 PM (Central)
Room: Salon A-3
The nation is at a tipping point when it comes to wage justice. Pay equity can be a powerful lever in the fight to rid today's workplace of the remaining vestiges of wage slavery. Pay has always been a barometer of how we value workers. The longstanding gender, race and LGBTQ+ pay gap steals from families billions each year, harms communities' ability to care for families, robs their wealth-building and artificially stifles their innovation in political and other spheres. Activists nationwide are meeting this moment. Hear from advocates promoting radical pay transparency through legal reforms, abolishing the subminimum wage and demanding the inclusion of migrant and part-time workers in efforts to end the pay exploitation of workers.
Moderator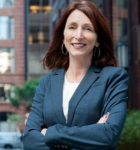 Noreen Farrell is the Executive Director of Equal Rights Advocates (ERA), a national non-profit advancing gender, racial, and economic justice. A nationally recognized leader, Noreen has has represented thousands of women and girls in groundbreaking impact litigation to end sex discrimination in school and the workplace, including before the U.S. Supreme Court. Noreen also leads ERA's various Women's Agenda Initiatives, including state and national policy reform campaigns to improve the lives of women and girls and their families. She co-founded and chairs the national Equal Pay Today Campaign, working with 30+ organizations in dozens of states and at the federal level to close the gender wage gap for women of color and low-paid workers. She also founded the National Network of States to Stop Harassment, which has 158 members across the country coordinating policy change to end sexual harassment at work and school. At the state level, Noreen founded and leads a women's economic security campaign called Stronger California which has been the force behind 36 new laws building the economic security of 18.5 Californians, expanding access to childcare, and promoting workplace justice.
Panelists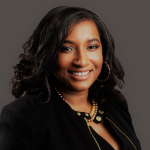 Cherita Ellens is a native Chicagoan; longtime advocate for women, youth, and
families; working mom; and caregiver. As CEO of Women Employed, Cherita leads an organization that, for five decades, has been at the forefront of proposing and enacting policy to grow the economic power of women, and is currently focused on closing the wealth gap at the intersection of gender and race. Before joining Women Employed, for more than 15 years, Cherita has held leadership positions with Chicago-based nonprofits serving historically marginalized communities and people. Cherita holds an MBA from The University of Notre Dame, and a B.S. in Speech Communications from Illinois State University.
Other sessions: Shifting the Narrative Around Philanthropy: Escaping the Scarcity Mentality
Catherine manages the policy and advocacy work at Justice for Migrant Women. She is from North Carolina and currently resides in Washington, D.C. where in 2016, she joined the National Hispanic Leadership Agenda leading digital engagement and supporting advocacy on issues including immigration, labor and women's rights. Prior to joining Justice for Migrant Women, Catherine managed state government affairs at the American Planning Association, working with community planners to elevate their community's priorities in state capitols across the country. Catherine holds a Bachelors of Arts in Political Science and in Spanish from Furman University.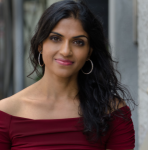 Saru Jayaraman is an academic at UC Berkeley and the President of One Fair Wage, a national organization working to raise wages for service workers nationwide. She was named one of CNN's "Top10 Visionary Women", a White House Champion of Change, a James Beard Foundation Leadership Award winner, and the San Francisco Chronicle 'Visionary of the Year'. Saru authored Behind the Kitchen Door (Cornell University Press), and Forked: A New Standard for American Dining (Oxford University Press), and has appeared on MSNBC, HBO, PBS, CBS, and CNN.
Other sessions: How Service Workers are Building Power—and Winning—in the Windy City