Housing Advocacy for All: Coordinating Local, State and Federal Efforts
Session Type(s): Panel, Streamed Session
Starts: Saturday, Jul. 15 2:30 PM (Central)
Ends: Saturday, Jul. 15 3:30 PM (Central)
Room: Salon A-1
Housing is an issue that affects everyone. In New York, the housing crisis impacts upstate and downstate residents differently; but legislation to protect tenants, increase assistance programs and create/retain affordable housing happens on the state, local and federal level. This panel will delve into the many challenges of tackling such a broad and complicated issue, including how to build a unified coalition, how to coordinate priorities and messaging, how to expand outreach and advocacy to all communities and how to keep the focus on the issues that matter most. We'll also explore ideas that are gaining more momentum, like Land Banks and Community Land Trusts, and how they can shape the future of housing for all.
Moderator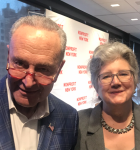 Danielle Mowery is a nonprofit and media professional who first became involved in housing advocacy at the start of NYC's pandemic shutdown. As the comms director for an eviction prevention nonprofit, she was immersed in messaging via social media and emails, then through connecting with coalitions, elected officials, gov't agencies and foundations. She now consults with nonprofits on external relations and strategy. PA-raised and NYC-entrenched, Danielle lives in Bay Ridge, Brooklyn, a swing district that is also home to many fellow Arab-Americans. Recently she was appointed to local Community Board 10, where she is proud to be a voice for tenants, and also serves on the Kings County Democratic County Committee.
Panelists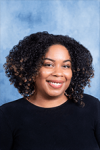 Gabby Ross is a housing advocacy organizer at the National Low Income Housing Coalition. Prior to joining NLIHC, Gabby was a housing stability specialist for a property management company in Washington DC, where she helped DC residents apply for emergency rental assistance. Previously, Gabby worked as a housing specialist at N Street Village for the Patricia Handy Place for Women shelter in Washington DC. During her time there, she worked alongside case managers and community partners to find safe and affordable housing for women at the shelter to help them exit homelessness successfully. Gabby graduated from Howard University in 2019 with a BA in political science and a minor in community development.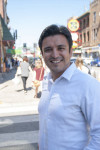 Alderman Byron Sigcho-Lopez was sworn in to serve on the Chicago City Council in May of 2019 as Alderman of Chicago's 25th Ward which includes the communities of Pilsen, Little Village, University Commons, and Heart of Chicago. He was re-elected to his second term in 2023 and now serves as the Chairman of the Chicago City Council's Committee on Housing & Real Estate.
As an immigrant who came to the US alone as a teenager, Byron found care in every day teachers, coaches, and community members who gave him shelter, guidance, taught him the English language, and a gave him a pathway to a good education. Ten years ago, Byron settled in Pilsen, a historic immigrant working class neighborhood in Chicago and worked as an adult education teacher, founding the bilingual adult education program at the University of Illinois at Chicago. He became politically active after former-Mayor Rahm Emanuel listed a neighborhood public school for closure where Byron volunteered as a soccer coach and lead community efforts to keep that school open which were ultimately successful.
Later, Byron served as the Director of the Pilsen Alliance where he was a leader in the struggle against gentrification and displacement, co-founding the campaign to Lift the Ban on rent control in Illinois. As Alderman, Byron was the Chief Sponsor of an ordinance to curtail harassment of homeowners who have been targeted by predatory developers. Byron is a member of the Chicago Democratic Socialists of America. He holds a bachelors in Mathematics and Business Administration from Cumberland University, and a Masters in Economics from the University of Illinois at Chicago. He is currently a PhD candidate in the field of Urban Education Policy.
Other sessions: Enough for All of Us: Supporting New Arrivals and Long-term Residents with Solidarity, Justice and Abundance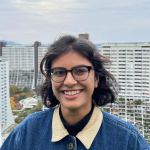 Ritti Singh is Communications Organizer with Housing Justice for All, a New York statewide coalition of over eighty groups representing tenants and homeless New Yorkers.
She is based in Rochester, New York and first joined the housing movement in 2020 during the pandemic housing emergency, starting as a volunteer tenant organizer and then Communications Coordinator with the City-Wide Tenant Union of Rochester.