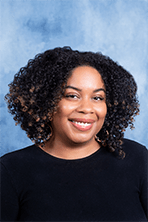 Housing Advocacy Organizer
National Low Income Housing Coalition

Gabby Ross is a housing advocacy organizer at the National Low Income Housing Coalition. Prior to joining NLIHC, Gabby was a housing stability specialist for a property management company in Washington DC, where she helped DC residents apply for emergency rental assistance. Previously, Gabby worked as a housing specialist at N Street Village for the Patricia Handy Place for Women shelter in Washington DC. During her time there, she worked alongside case managers and community partners to find safe and affordable housing for women at the shelter to help them exit homelessness successfully. Gabby graduated from Howard University in 2019 with a BA in political science and a minor in community development.
Netroots Nation participation