To Protect Our Elections, We Must Protect Those Who Run Them
Session Type(s): Featured Panel
Starts: Saturday, Aug. 20 11:15 AM (Eastern)
Ends: Saturday, Aug. 20 12:30 PM (Eastern)
Room: 317/318
We've talked a lot about 2020, but how do races in 2022 lay the foundation for fair elections in 2024 and beyond? This panel features Secretaries of States and candidates for Secretary talking about what's at stake in 2022 including how we can preserve democracy in the states. Now that the enemies of democracy understand the executive authority and oversight of Secretaries, we've seen increased attacks and huge investment from the far right. Join us to talk about how we defend our democracy and ensure that voters decide our elections in 2022 and beyond.
Panelists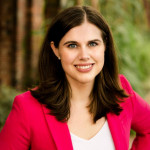 Jena Griswold is Colorado's 39th Secretary of State and the youngest Secretary of State in the country. She grew up working class in rural Colorado and knows how important it is for everyday Americans to have their voices heard in our democracy. In 2019, Griswold spearheaded and passed into law one of the largest democracy reform packages in the nation. This year, she is a leading voice in expanding mail ballots to every eligible American.
Before assuming office, Griswold had practiced international anti-corruption law, business law, election law, and ran a small business. She also served as the Director of the Colorado Governor's DC Office, where she helped bring back hundreds of millions of relief dollars to help the Colorado communities hit by the 2013 flood. In 2018, Jena was elected as the first democratic Secretary of State in Colorado since 1958, the first democratic woman Secretary of State in Colorado's history, and only the 10th woman in Colorado's history to hold current statewide constitutional office.
Other sessions: Hope in the Dark: Out-Organizing Voter Suppression in 2022