Pennsylvania's Plan to Take on the Corporations Harming Our Democracy
Session Type(s): Panel
Starts: Thursday, Aug. 18 2:30 PM (Eastern)
Ends: Thursday, Aug. 18 3:30 PM (Eastern)
In 2020, Pennsylvania movement organizations took to the streets to defend democracy. These threats are no longer unique, and the suppression of BIPOC votes are increasingly funded by billionaires and corporations. In 2021, Jeff Yass—bolstered by the state's lack of campaign finance laws—flooded the Pennsylvania Supreme Court race and local school board races with white supremacist, anti-union agendas. Join us to hear about the next frontier to defend democracy–taking on those directly bankrolling disenfranchisement.
Moderator
Panelists
Veronica Coptis joined the CCJ staff in March 2013 as a Community Organizer and is now serving as the Executive Director. She grew up in western Greene County near the largest underground coal mining complex in the country and currently lives in the eastern part of the county surrounded by fracking.
Before joining the CCJ staff, Veronica served on the Board of Directors for CCJ and organized with Mountain Watershed Association. She received a bachelor's degree in biology from West Virginia University. She enjoys hiking and geocaching at Ryerson State Park and other areas around Greene County with her husband and daughters.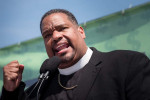 Bishop Dwayne D. Royster is the Political Director of PICO (People Improving Communities through Organizing) National Network. PICO is the nation's largest faith-based organizing movement committed to racial and economic justice with 40+ federations in 22 States and 5 Countries. Bishop Royster was previously the Executive Director of POWER (Philadelphians Organized to Witness, Empower, and Rebuild) the PICO federation in Philadelphia, PA.
Bishop Royster is a voice for justice for and with those most marginalized in our society. He partners with those that have been oppressed as a result of their race, nationality, socio-economic level, gender, and faith. He not only stands with those marginalized but works to end systemic oppression and racism through the transformation of public policy and laws that govern this nation. Since we are all created in the image and likeness of God, Bishop Royster believes that it is imperative that a prophetic faith voice is heard in the halls of power calling for the equity and respect of the moral value of every human life. In addition to his work with PICO National Network, the Bishop has served in pastoral ministries for 24 years at the following Churches: Living Water United Church of Christ (Founder and Senior Pastor); Mid-Town Parish UMC (Pastor); Way of Life Ministries Mennonite Church (Church Planter and Pastor); Harold O. Davis Memorial Baptist Church (Staff Minister) and Camphor Memorial UMC (Associate Pastor).
Bishop Royster is an Ordained Minister in the United Church of Christ as well as Higher Ground Christian Fellowship International. He was consecrated a Bishop by Higher Ground Christian Fellowship in 2007 and serves as the Assistant Presiding Bishop. In addition, Bishop Royster and clergy from across the nation have founded a new ecumenical religious order, "The Society for Faith and Justice." The Society has a charism of social justice as spiritual discipline and spiritual practice. Bishop Royster is a former Councilman at Large for the Municipality of Norristown, PA.
The Bishop is a graduate of Geneva College's Center for Urban Theological Studies with a B.S. in Urban Ministry Management. In addition, Bishop Royster has studied at Eastern Baptist Theological Seminary and is a graduate of the Lutheran Theological Seminary in Philadelphia with a Master of Arts in Religion Degree with a specialization in the African American Church.
Bishop Royster is active on social media and can be found on his personal blog: www.changethedamnworld.com. As well as on twitter @ddroyster.
Bishop Dwayne D. Royster is married to the lovely Suzette Royster and together they are the parents of two beautiful daughters.